Did you miss this month's meeting? Here's a short wrap up.
Trunk Show
Addy, the artist and yarn dyer behind Ruby and Roses Yarn, joined us to show off all of her beautiful yarns. Visit your member dashboard to access the generous discount code she has given the Guild!
Program Recap
Safiyyah Talley joined us for the program to share her Knit 2 socks in 1 technique. She also talked about different needle types, yarn blends, and knitting a sock that works best for you or your gift recipient.
Check out her book, Knit 2 Socks in 1, for more details about this technique and to see the 21 included patterns. The Guild purchased her book earlier this year, and it can be checked out from the Textile Center library.
Board Update
Kelsey Sorenson will be cycling off the board and leaving her position as secretary when her term ends at the end of this July. Kendra Hyland will be stepping into the position of Secretary in August.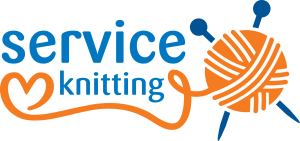 You can continue to drop off your completed service items at the Sip and Knit and Knitting Around Town events.
For details about this year's service partners and what they need see: https://knitters.org/service-knitting
Library Update
Guild members will need to fill out this form: https://textilecentermn.org/librarycheckout/ to check out books from this point forward. This will not only help the Guild know how many members are utilizing the library, but will also help the Textile Center with their database. If you forget to fill out the form before visiting the Textile Center, they will have copies available.
Upcoming Events
Remember to check the Guild's calendar for all upcoming events!
Sip and Knit

Come and join us August 05 from 10:00am to noon for coffee, beer, donuts, and crafting with friends!
Food & Drink: Venn has espresso drinks, coffee, tea, soda, and juice, as well as beer for purchase. You can bring in your own water. The Guild will be bringing donuts. You are welcome to bring other food as well.
Getting There: The Blue Line 46th Street Station is just outside the brewery. It just down Hwy 55 from Minnehaha Falls and the Grand Rounds bike path. There are Venn specific parking spots to the north of the building and on-street parking.
You can also park at the Fort Snelling Park and Ride and take the Blue Line north 3 stops.
Dogs: Dogs are welcome.
Thanks to Venn Brewing for hosting us!
Knitting Around Town

Guild members on the move! Let's visit a new library in the metro area each month to get together and knit!
August 10th – Plymouth Library,  5:30 – 8:00 pm
15700 36th Ave N, Plymouth, MN 55446
Registration is open for members and non-members!
We are also looking for volunteers to help out during Yarnover. Sign up to volunteer and see the areas and times volunteers are needed here: https://knitters.org/yarnover-2023-volunteer-sign-up/
This year's yarn sale will be at the Textile Center on Sunday, August 13 from 10 am – 1 pm. Enter from the back parking lot. Thanks to the Service Committee for organizing this event and pricing all the yarn.
We will be accepting cash and credit at the sale.
Minnesota State Fair News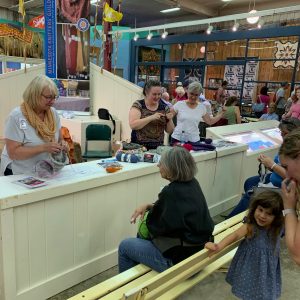 The Guild will be in the demonstration area in the Creative Activities building on August 27 and 28. If you'd like to volunteer to work in the area, you can sign up here. If you're at the Fair either of those days, make sure to stop by and say hi!
(There's only one volunteer spot left. Thanks to everyone who has signed up already to volunteer!)
The Guild is entering a tree in the decorated Christmas tree competition, and we need ornaments!
All the details about this fun project are here.
Next Month
Because we are hosting the Yarn Sale the week of the member meeting, we will not be having a program in August. We will still have a business meeting at 7 pm.
Take care and see you next month!