By Bonnie Swierzbin
Volunteering at the Textile Center Garage Sale, I've had my hands on a lot of fabulous yarn. On occasion I've thought something like, "Wow! This Kaffe Fassett sweater kit would never leave my house as long as I could grab it!" and sadly realized that perhaps the yarn was donated to the sale because a knitter couldn't knit any more or maybe had died.
As I read Melissa's recent blog post about steps for organizing and putting a value on her stash, I thought about additional steps that knitters can take to ensure that their beautiful and valuable stash ends up where they want it to when they can't use it any more.
Although this post is mainly about yarn, the ideas here apply to embroidery materials, fabric, etc. as well. Thanks to the knitters in the Guild's Virtual Sunday Knitting Brunch and Sandy Resnick of the Needlework Guild of Minnesota and St. Paul Needleworkers for sharing their ideas with me. Additional ideas that apply to weavers can be found at handwovenmagazine.com.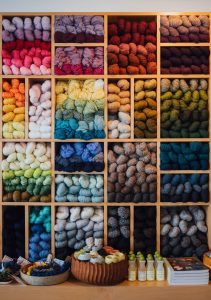 Yarn exchange groups
First, if you aren't able to knit or stitch with certain materials any more (e.g., laceweight yarn, 32-count linen), but you can still work with other materials, you could take advantage of the many yarn exchange groups on Ravelry or a "stash reallocation" event with a guild or local knitting group. Such events are sometimes organized as swaps and other times participants simply bring what they can't use and leave with what they want, then afterwards the remaining materials are donated to charity. On the other hand, one former stitcher I know took boxes of lustrous silk threads with her to assisted living despite her family's protestations of "no space" because the stitchers helping her move knew that sometimes you simply need to see and feel some of the exquisite materials you've collected over the years.
Where there's a will there's a way…
Probably the most important step you can take is writing down your intentions for your stash when you are gone.
It doesn't have to be anything fancy, but a written statement of your wishes attached to your will or stored with your stash will help your loved ones know what you want far better than a half-remembered oral request from years earlier. Your statement should include the location(s) of your stash, especially if you've hidden some in the soup tureen (as Lily Chin once suggested) or stored half-finished projects in garbage bags in the basement.
You may want to provide access to your Ravelry account or a database where you keep information about the value and location of your stash. Your statement should also include contact information for whom or what group you want to handle your stash and directions for the proceeds if it is to be sold.
You are certainly familiar with the MKG auctions and the Textile Center Garage Sale if you want to donate your stash outright, and there are lots of possibilities for handling the proceeds if your stash is sold. You may simply want the money to be part of your estate. Other possibilities that I've seen knitters and stitchers earmark funds for include
Supporting their grandkids' college fund
Supporting special Guild programming such as paying for a speaker for a guild anniversary presentation or providing a retreat scholarship
You may also want the materials themselves not to be sold but to be used in a particular way such as
Donating a special kit or set of materials to a charity's silent auction
Donating appropriate yarn to a group that does service knitting, which may result in a tax deduction
Using supplies for Guild programming, for example, teaching knitting to kids or handing out kits at the State Fair
Door prizes for Guild meetings
Label it (for their sake if not for yours)!
In addition to Melissa's stash-organizing steps, there are a few other things you can do to make life easier for someone who is processing your stash. First, it's easier if you keep your project materials together including the yarn/thread labels. If you borrow the needles for another project, make sure you have written down what size you were using. It's also helpful to keep materials in closeable bags to prevent critter attacks. Finally, remember to consider books and tools when you are thinking about passing along your stash. Put with your instructions a note about anything that is unusual, valuable or of historical interest.
It's sad to think about a day when you can't knit or stitch anymore, but one thing that's helped me deal with the sadness of losing friends and fellow stitchers is using their stash for service knitting, making stitch markers from their bead stash for mutual friends, and knowing that sales from their stash supported people and organizations that are important to all of us.