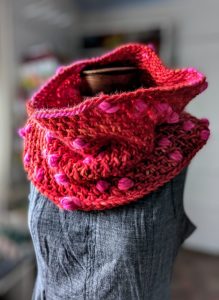 Basic yarn store info:
Northfield Yarn
314 Division St S, Northfield, MN
Open 7 Days a Week
Regul
ar Hours: M-W 10-5:30, Th 10-8, Fri & Sat 10-5:30, Sun 12-4
Summ
er Hours (Memorial Day through Labor Day): Mon-Sat 10-5, Sun 12-4
What class offerings do you have coming up?
Classes planned for May include Beginning Crochet and Learn to Weave on a Rigid Heddle Loom. We tend to slow down a bit on classes over the summer, but will offer a wide variety in the fall and winter months. We include at least one online class each quarter. All classes are listed on our website and you can register online.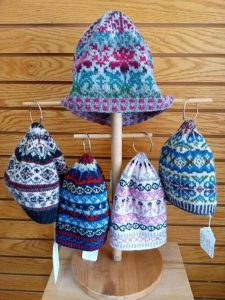 Do you have any upcoming trunk shows or other events?
There are always things happening at Northfield Yarn! Some examples of things coming up soon are:
Spring Finishing Frenzy: A fun annual event in which we encourage each other to finish WIPs and give a coupon to participants who meet their finishing goal. You can participate virtually through Ravelry. It runs  May 1-31, and ends with an in-person event on June 1st
Vintage Sock Trunk Show: We will have items made from Berroco's new Vintage Sock in the shop from May 12-22.
Summer Club: A social crafting time on Thursday evenings at a local brewery over the summer.
Punchcard Clinics: Every Saturday from 10-12 we offer a clinic where you can get help with knitting projects on a drop-in basis. We call it Punchcard Clinic because if you plan to come to at least four sessions, you can purchase a punchcard and get a discount. Crochet Clinic is currently offered on Tuesday afternoons (but check the website before coming to this because its schedule is more subject to change.)
You can find details about these events on our website or by subscribing to our newsletter.
What is your favorite sample?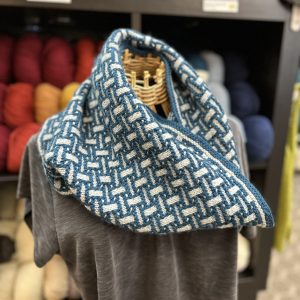 People visiting our shop for the first time often remark on the large number of samples we have on display. We do work hard to make samples with new yarns that come in, plus we continually add samples in established yarns so that there is always something new to see. Each month we "unveil" a sample that has not been in the shop before. This is the monthly "Express Project," and it is intended to help shoppers who want a new project and are looking for a suggestion. Photos of a couple of recent Express Projects are attached (Spot Cowl & Mosaic Cowl). I've also attached some photos of hats made in Shetland wool, and Arne & Carlos' recent Setesdal Hat.
Do you offer a 

MKG

 discount or a frequent buyer club?
Yes, both. If you show us a current Guild Membership card we will offer 10% off of regularly priced yarn. Also we have a loyalty program that provides shoppers with a $20 coupon after they have accumulated enough points from yarn purchases.
Other than shopping, what are the best ways we can help support your yarn store?
Spread the word! We get the impression that some people in the Cities think that Northfield is too far away, but we think that we (and our little town) are worth the trip. If you have been here, and you agree, please let other people know. Also, we have a lot of great items in our online shop. If you know knitters who don't have an LYS, you could recommend our shop as an option if they would like to support a brick and mortar store with their online purchases.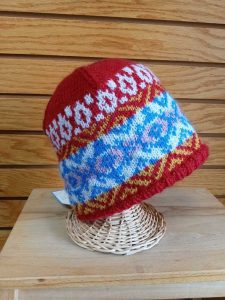 Is there anything else you'd like us to feature? 
There are some things about our mix of products that may be worth pointing out. Northfield Yarn supports traditional colorwork projects by carrying 100% wools such as Rauma Garn from Norway, Lopi from Iceland, and Jameison & Smith from Shetland. We also endeavor to support sweater knitters in a variety of ways. We carry many yarns that are appropriate for sweaters, and we have a relatively large amount of space, so we are able to carry these yarns in sweater quantities. We can't promise that we won't have to place an order to get a specific color all in the same dye lot, but we do a good job of having many great sweater options on hand so you don't have to wait for a special order. We also endeavor to carry a wide range of yarns, so you can find everything from affordable acrylics to hand-dyed silk blends all in the same shop.