Basic yarn store info: Name, Location, Hours of operation
3 Kittens Needle Arts
750 Main St, Ste 112-113
Mendota Heights (suburb of St Paul)
651-457-4969
www.3kittensneedlearts.com
Full-service needle arts shop offering notions, threads, yarns, needlepoint canvases, patterns, books, embellishments, and more. Wide range of classes in needle arts & crafts.
Hours –
Yarn Dept – Tue/Thu 1-am-7pm, Wed/Fri/Sat 10am-3pm
Needlepoint Dept – Tue-Sat 10am-3pm
Tell us about your team or would you like to highlight someone special?
In our Yarn Department, we have 3 staff people. Elizabeth is a certified Master Knitter and loves to knit short rows, cables and to design (she designs for Webs and Cascade Yarns as well as independently – you can see her patterns on Ravelry). Kirsten enjoys playing with color and tubular cast-ons, and is willing to try any technique. Victoria is our resident crocheter (amigurumi, bags, clothes), and she is thrilled to be learning more about knitting and yarn! One of our owners, Laura, is also an avid knitter and designer (you can see her designs here).
We have a great group of instructors as well. Elizabeth teaches a wide range of project classes suitable for beginners to advanced knitters. Jane teaches Beginning Knitting and Basic Socks. Mary Ann teaches a variety of classes, including stranded knitting. Shelley teaches Beginning Crochet. All four instructors also have "Studios" where students can bring their own project and get help – or just enjoy knitting or crocheting with others.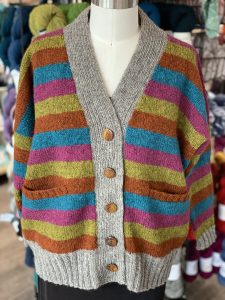 What yarn do you stock that you feel doesn't get the attention it deserves?
We have some great yarns that we've brought in from Europe that need more love! Tukuwool DK is a lovely Finnish Wool in amazing colors. Laura finished a Douglas Cardi by Andrea Mowry out of it, and it looks fabulous . Tibetan from Pascuali is a luxurious worsted weight yarn made from a blend of organic ultrafine merino wool and yak. It's so soft and beautiful, especially in the Cardigan Tenpa by Pascuali Designs.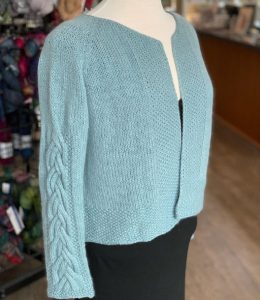 What class offerings do you have coming up?
In the summer, we don't have a ton of classes. Our Studios run year-round, so those are always available. Later in the summer, we will do Harvest by Tin Can Knits. In late summer or early fall, we'll have Basic Socks (we typically do that one every 6-8 weeks August-May) and we'll add more project classes.
Do you have any upcoming trunk shows or other events?
We will do a Knitalong for the Olive Knits 4-Day KAL in July. We start on June 30 and go through the end of July (we don't expect people to actually knit a sweater in 4-days!). And, we don't limit it to just this year's Marie Greene sweater pattern (Lemon Spritz). Participants can choose any Marie Greene sweater pattern to join our KAL. We will meet on Zoom for the KAL on Friday, June 30 and each Thursday in July from 6-7pm. Participants can register here. Bonus: If you purchase your yarn from 3 Kittens, start your Marie Greene sweater on (or after) June 30th and finish it by July 31st, 3 Kittens will give you a $10 gift card!
We also have a weekly in-store Stitch Social on Fridays from 1-3pm. This social knitting time is free, but because we have limited seating advance registration is encouraged.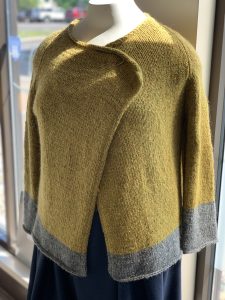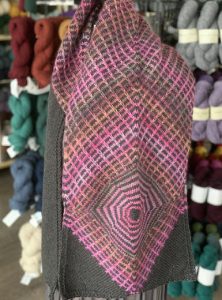 What is your favorite sample?
A couple of our most popular samples are the 1 Audrey Cardigan by Isabell Kraemer that we knit with Peace Fleece Worsted and Les Marmites by Lucinda Iglesias knit with Berroco Ultra Wool for the MC and Berroco Tiramisu for the CC.
Do you offer a MKG discount or a frequent buyer club?
Our loyalty program is called the 3K Club. Every time a 3K Club member accumulates $250 in purchases of full-priced merchandise or classes, they get a $25 reward to use within 6 months. In addition, members receive a 20% off coupon for a purchase during their birthday month. The 3K Club costs $9.95 to join (one-time fee), but MKG members can show us proof of their MKG membership for a FREE 3K Club membership.
Other than shopping, what are the best ways we can help support your yarn store?
Like and follow us on Facebook and Instagram. Like and/or queue our patterns on Ravelry. Bring your out-of-town yarnies to visit us when they're in town! Keep knitting
Is there anything else you'd like us to feature? ie: are you committed to providing extra benefits to employees? are you involved with a local charity? are you committed to being green?
We also carry needlepoint – one of only a few stores in the state. We have a wide range of handpainted needlepoint canvases and many, many threads.