It's May and that means it's time to start thinking about your entries for this year's Minnesota State Fair. The premium books are now available and online registration is open. Never entered the Fair before or just looking for tips on entering? We've compiled some basics about entering, plus some tips and tricks from past Guild winners. Don't see an answer to your question here? There is a form at the end of this post to ask and we will try to get the answer for you.
First the basics…
You MUST register all items online or by mail before the deadline. Every department has different dates, but for Creative Activities the deadline is August 1st at 4:30pm. You will not be allowed to enter anything that is not registered.
It's free to enter
You can only enter one item per class.
You must be a Minnesotan over the age of 14 to enter Creative Activities.
The items should have been made in the last three years
Items must be dropped off at the Fairgrounds on certain dates and times. It varies by department, but for Creative Activities in 2023 the dates are Saturday, Aug. 12, from 10 a.m. to 5 p.m., Sunday, Aug. 13, from 11 a.m. to 5 p.m. and Monday, Aug. 14, from 10 a.m. to 7 p.m. Those not able to drop entries off during the designated delivery dates will be allowed to drop entries off early beginning Wednesday, Aug. 2, through Wednesday, Aug. 9, (excluding Saturday and Sunday) from 8 a.m. to 4:30 p.m., to the Admin Too Building. Items can be mailed at least three weeks before the Fair.
Winners are announced the first day of the Fair online.
Items can be picked up from the Creative Activities Building on Wednesday, Sept. 6, from 1-7 p.m., and Thursday, Sept. 7, from 9 a.m. to 4 p.m. Other departments may have different dates and times. You can also call 651-288-4417 to set up a different time for pick-up, but everything must be picked up by December 1, 2023.
Back in 2017, we asked a couple of the Guild's perennial ribbon winners for their tips and tricks for entering, and hopefully winning, at the Minnesota State Fair. A few themes ran through all their answers…
Choose the right yarn for your project. Using one of good quality that works well with your pattern can make all the difference. The wrong yarn can affect how a color work or stitch pattern looks.
Pick a category that gets less entries. (Number of entries in each class listed in the results online, here are last year's.)
Read the rules carefully, there are some items that are not allowed in Needlecraft Knitting categories, doilies, toys, ruffle yarns, dolls, aprons, dish cloths, hot pads, handkerchiefs, tree skirts or tube socks. (You can enter knit dolls in the Handcrafts Dolls classes.)
You can enter knit projects in categories other than Creative Activities – Needlecraft. Knitting is accepted in Works of Senior Citizens, some Handcrafts categories such as Dolls, some Garment Making categories especially children's, and even in Ag-Hort-Bee in the Bee and Honey Crafts. There are also some Needlecraft classes that accept hand knit items that are not under hand knitting, these are for placemat, dinner and lunch clothes, table runners, and centerpieces.
Finishing is very important. All your ends must be woven in and seams must be sewn carefully. If you get critiques back from the judges about your finishing, think about taking a finishing class.
Block your entry carefully.
Items need to look like new. Any signs of wear will take it out of consideration.
Here is some more of their advice and some of their winning items.
Rebecca A (Rebecca's Bousta Beanie with Hot Rod Socks AKA Olympic Flame Socks)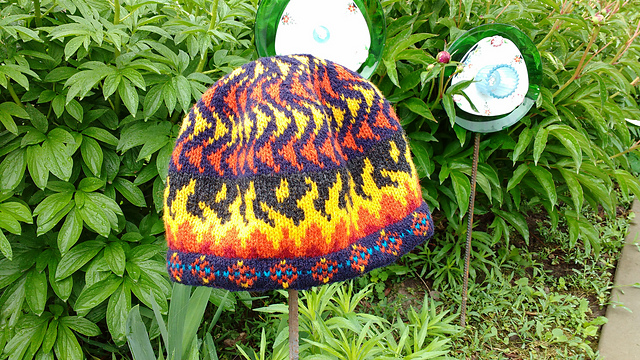 I don't think people should knit something solely with the hope they will win a ribbon.  I think they should items that they want to knit in the colors and yarn they want to knit and then if they feel like entering them in the fair, they should do so without expectation of winning anything.
I think that traditional colorways seem to do much better than non-traditional colorways.  For example, you see a  LOT of blue, or blue and white, or red and white winners.  If you look at what Kris King entered into the fair this year, most of her projects were dark blue or included dark blue.  Of course, her projects were also very well knit, but I think that color does have something to do with it.  It has been noticed by a lot of people that yellow items rarely win, however, I think there was a yellow and gray stranded hat that won a ribbon this year.
Traditional patterns – fair isle and cables seem to do well, but sometimes you see very modern items that win.
A lot of it is so subjective.  I won three ribbons this year this year and thought I might win 1 ribbon.  I totally did not expect to win a ribbon with my Fire Festival hat and I got second place.  I entered a much better hat a few years ago and didn't win a ribbon – but the colors included a bright spring green main color.  The exact same hat was entered by someone else the next year and won first or second place – but it was knit with blue and white.
I don't think anyone should feel bad if they don't win a ribbon.  The competition in Minnesota is fierce and there are so many entries.
Kris K. (Kris' Shenandoah)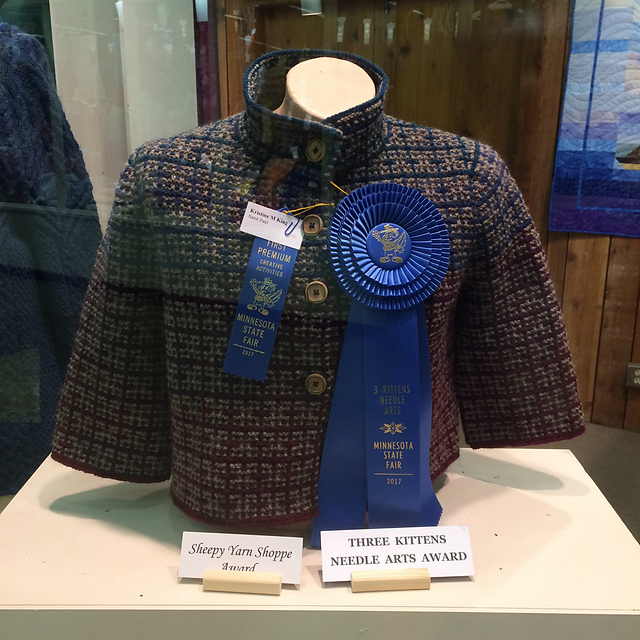 You need to be very precise with your knitting. If you see mistakes you've made you should fix them, even if that means ripping out a lot of knitting, or just decide that it won't go in the Fair.
Go above and beyond. I end up modifying a lot of the patterns I knit because I feel like they could be better than they were written. For example: the slip stitch jacket that I got 2 special awards for this year. I didn't like how the sleeve caps were designed so I ripped them out and re-designed them. I had to rip out the very top part twice but eventually the design fully matched all the way to the top. I think it is this kind of attention to detail that is noticed by the judges.
If criticism, even constructive, is going to bother you, don't enter. Entering in the State Fair should be for the fun of it. Personally, I like to enter the Fair because I work better with a deadline. I love knitting but I'm not quite so excited about the finishing work so by entering, I have a deadline to force me to finish!
Bonnie E. (Bonnie's #21 Twisted-Stitches Lace Gloves)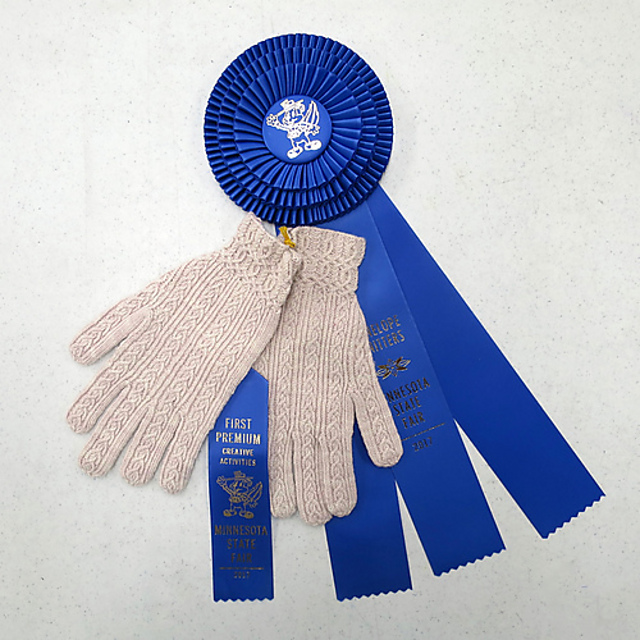 Choose your pattern carefully.  Pick one with a higher level of difficulty that fits within the parameters of the class.
Make sure that the yarn you choose shows off your knitting and your hard work.  For example, I have seen texture entries where the pattern is lost because of poor yarn/color choice – and I've done it myself.   An option is to look on Ravelry and see what yarn & color others have used for the pattern.  Sometimes that is really helpful and eye opening.  Do not underestimate touch.  Use a yarn that feels good as well as looks good.
I always hope for one ribbon so I usually have more than one entry – better odds.   Winning more than one ribbon is a thrill and just icing on the cake.
The first thing I do when I pick up my projects is to check my judges sheets before I even leave the fairgrounds.  When the judges leave constructive criticism, I look my projects over and I usually agree with them – then I take their suggestions and try to make those improvements in my knitting.
Elizabeth W. (Elizabeth's Amillë)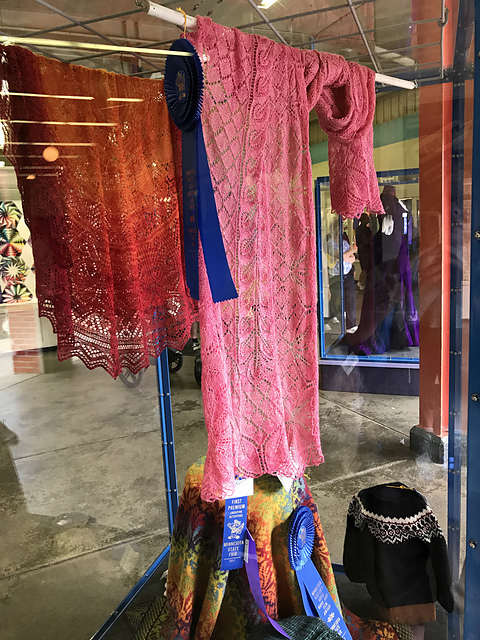 Selecting patterns: I usually think about what I want to make in the next year and flag 2 or 3 things to enter in the fair. For the most part, things that I enter in the fair are things in my queue that are challenging or that I'm going to make with really special yarn.
Read the info about categories carefully and think about what will stand out. One of the sweaters that I won a blue ribbon for had 14 colors. It only used one color at a time, however, so it qualified for the "plain pullover" category. I've also won for things that have an unusual design or construction.
The judges don't always reward things that are unusual or difficult, however. The most difficult thing that I've ever entered (and one of the most difficult things that I've ever made) didn't win anything. I once entered a pretty but simple scarf that I made for a friend and it took first place.
I like to knit with finer weights of yarn and I think that the judges do reward the extra effort that can be involved in making an adult garment on little needles.
I don't usually enter things that are "hot" on Ravelry and have been made hundreds of times. The one time I entered a shawl that was really popular, mine came in 3rd and someone who made the same pattern came in 1st . The judges liked hers more than mine.
On the other hand, I've won ribbons for things that have mistakes in them. My favorite example is a sweater where the 2nd sleeve was 2" wider than the other. I was racing to finish it in time for the fair and almost didn't bring it when I realized what I had done. I didn't have time to fix it, however, so I decided to just bring it and see what happened. It won a blue ribbon and the judges didn't say anything about the mismatched sleeves.
Remember that you can enter something again if it didn't win anything the first time. I once entered a shawl that was very poorly blocked because I ran out of time (notice a theme?). I entered it again the following year and it got 3rd place.
Susan R. (Susan's Plaid Squared)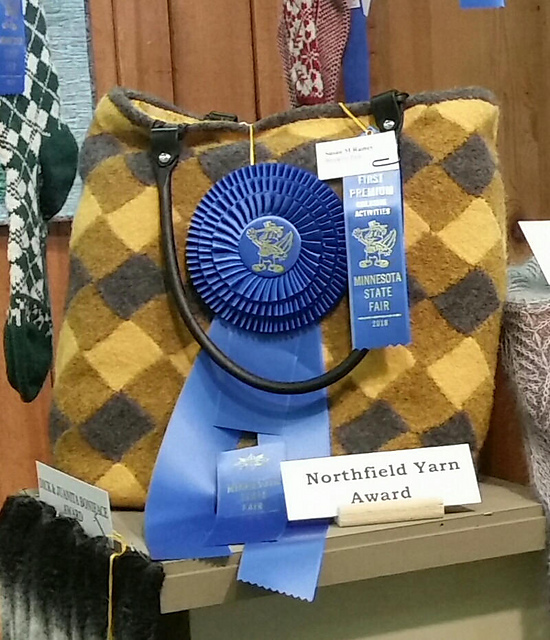 Enter something unique – a Find Your Fade or Baa-ble Hat may get lost because it's "been done." This isn't always true, but maybe try the road less travelled.
"But I followed the pattern" – the judges aren't judging who followed the pattern the closest. They don't have the pattern in front of them. They are looking at your choice of techniques and how well they were executed.
Learn from the judges' comments – if they give you specific feedback, use it to improve for next time. I received feedback on my first sweater that I didn't understand or have any hope of fixing! But I researched and practiced until I figured it out. Those detailed comments really helped me improve.
Sometimes we wonder why a certain entry won instead of something (we felt) was more deserving. The winning formula is not just about skill or project difficulty. Sometimes it comes down to luck!! Judges are people. Judges have opinions. Judges are fallible. But they are the ones handing out the ribbons! So, go into it with an attitude of fun and try to put disappointment behind you – there's always next year!
Have more questions?! Ask us