Basic yarn store info: Name, Location, Hours of operation
Potomac Beads/iTry Studios, 518 Broadway, Alexandria, MN 56308 Tuesday-Saturday 10 – 5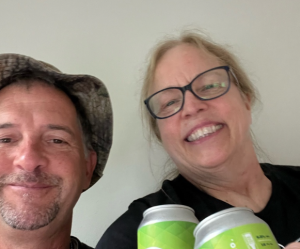 Tell us about your team or would you like to highlight someone special?
We are a two person team – Deb Kerr & Kyle Anderson. Deb grew up in New York State and Kyle grew up in St Cloud. We met while teaching in State College, PA. Kyle – 7th Grade English, Deb – Math and instructional technology. We moved to Alexandria in June 2015 and opened the store July 8, 2015. It's our retirement project.
What yarn do you stock that you feel doesn't get the attention it deserves?
We don't have any unusual yarns but we do some hand-dyeing. Our yarns are named Bad Dog Yarns and feature our bad dog Baxter on the yarn label. He is quite a lovable bad dog.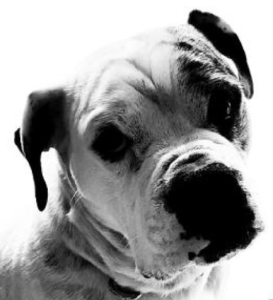 What class offerings do you have coming up?
We offer our classes by request. We teach beading, silver-smithing, crochet, knitting, wine-making, copper enameling, metal stamping, acrylic pour painting, …. People tell us what they'd like to learn and we create a class for them.
What is your favorite sample?
One of our most popular samples is the Make a Million Shawl knit from a gradient set and a 100g skein of Malabrigo Sock. People ask to buy it regularly. We also have an awesome beaded felt hat in the window that is not for sale – it was beaded by a Native American named Tawney Cole. Deb won it in a raffle and we just love it. So does everyone passing by.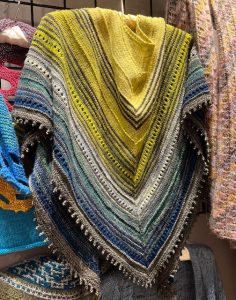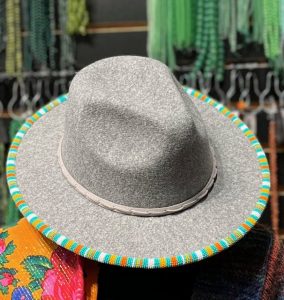 Do you offer a  MKG discount of frequent buyer club?
We have a rewards program available to everyone.
Other than shopping, what are the best ways we can help support your yarn store?
Please visit us when you come to Alexandria or are passing through. Alexandria has a nice little downtown.
Is there anything else you'd like us to feature? 
We are a drop site for the guild's service knitting donations. We also have a soft spot for education so we regularly donate to the local Empty Bowls event which is run by students at the high school as well as other school related charities.