IMPORTANT: Some users report experiencing migraines and seizures when accessing Ravelry due to their site redesign. Links in this blog post direct to Ravelry pages and are spelled out accordingly. If you are prone to either of these issues, please proceed with caution when clicking the Ravelry links.
Our October designer is Mary O'Shea.  I learned about Mary while traveling in Maine this summer and liked her mitten and hat designs.  Mary is from North Orland, Maine and recently retired as a middle school science teacher.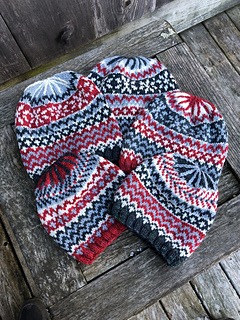 What we love about Mary's designs are the colorful options and her mitten design technique where she knits in a wooly worsted weight yarn at a fairly snug gauge, proof against bitter winter winds! The thumb gusset is placed just to the edge of the palm, giving a comfortable ergonomic fit.

Mary's designs can be found on her Ravelry site or her website http://tullymongandesigns.com