Did you miss this month's meeting? Here's a short wrap up.
Program Recap
We had a great presentation from Tanis Gray about Estonian Inlay/Roosimine! She explained the technique and demonstrated the first few rows of the technique from her pattern A Short Reprise Hat.
If you missed the meeting or want to watch her demonstration again, the meeting recording has been uploaded. Remember to login to your dashboard in order to access the video recording.
We are still collecting items for MoveFwd (Move Forward) through the end of the year.
They are looking for:
Hats and mittens
(sizes to fit kids through adults)
Scarves
Warm socks and slippers for young adults
Lap blankets
Cotton washcloths
All items need to be machine washable. Remember to also wash your finished items before dropping them off.
You can also drop off your service knits at the Sip and Knit and Knitting Around Town events. Check the calendar for upcoming dates.
Upcoming Events
Remember to check the Guild's calendar for all upcoming events!
Sip and Knit

Come and join us November 5 from 10:00am to noon for coffee, beer, donuts, and crafting with friends!
Food & Drink: Venn has espresso drinks, coffee, tea, soda, and juice, as well as beer for purchase. You can bring in your own water. The Guild will be bringing donuts. You are welcome to bring other food as well.
Getting There: The Blue Line 46th Street Station is just outside the brewery. It just down Hwy 55 from Minnehaha Falls and the Grand Rounds bike path. There are Venn specific parking spots to the north of the building and on-street parking.
You can also park at the Fort Snelling Park and Ride and take the Blue Line north 3 stops.
Dogs: Dogs are welcome.
Thanks to Venn Brewing for hosting us!
Knitting Around Town

Guild members on the move! Let's visit a new library in the metro area each month to get together and knit!
Join us at the Eden Prairie Library in the Bluestem Room from 5:30-8:00 pm.
Questions or want to suggest a location? Email Meg, vicepresident@knitters.org
Designer Spotlight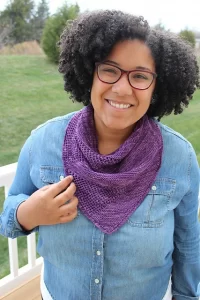 Rebecca McKenzie is the knitwear designer behind the Raging Purlwind brand. Finding that her body had changed drastically after giving birth to her daughter the brand grew out of Rebecca's desire to create clothes that would fit her post-baby body rather than trying to make her body fit into her clothes. She has a whimsical style and enjoys designing colorful, vintage-inspired knitwear pieces that she hopes will become staples in an everyday wardrobe. Check out Rebecca's patterns on Ravelry.
The Guild seeks to highlight:
BIPOC designers
Local designers
New designers
Designers should also have:
A presence on Instagram
Multiple patterns on Ravelry
If you have a designer you'd like the Guild to spotlight, email Rose. And don't forget that if your designer is chosen, you will receive on of the designer's patterns!
Door prize winners this month are:
No Fair Award Winners
Thanks to everyone who submitted entries to this year's No Fair Awards. The categories and winners are:
Single sock or mitten syndrome – Kate Crandall
Stranded on sleeve island – Deepa Nirmal
Start all the projects – Kate Crandall
Not (for the) Fair – Julie Muehlberg
Oh, the places you'll knit (or crochet) – Kelly Auer
I'm a fan – Amy Schoen
Lost at yarn chicken – Karen Rumpza
It's spooky season – Kathy Lewinski
I'm not a one trick pony – Elanie Klobe and Robin Westacott
If you'd like to see and hear the stories behind all the submissions, make sure to check out the meeting recording. The No Fair Awards Show and Tell is at the end of the business portion of the meeting.
Next Meeting
Developing Color Confidence with Janine Bajus
Join us on November 15 for our meeting with Janine Bajus. She shares, "I have been teaching knitters around the world how to develop their own personal Fair Isle designs for 18 years—Fair Isle knitting is my passion, so much so that I wrote a book entitled The Joy of Color: Fair Isle Knitting Your Way. The most common thing I hear students say about themselves is, "I'm no good with color." Few people are born with confidence in this area—but there are ways to develop confidence in your ability to choose colors. In this talk I offer information and simple exercises to help you confidently make color choices that please you!"
Janine Bajus, a.k.a. the Feral Knitter, has been fascinated by color and pattern and how they collide in Fair Isle knitting since she was given a classic yoke sweater in high school. She teaches the joys of expressing yourself through Fair Isle design around the country at Stitches events, Sievers School of Fiber Arts, guild retreats, and virtually, and she leads fiber tours around the world. Her book, The Joy of Color: Fair Isle Knitting Your Way, is a guide to creating your own unique garments. She knits, spins, gardens, cooks, and writes in Berkeley, California. See her designs at feralknitter.com; see what she's obsessed with on Instagram @janinebajus.
See the event calendar for all the details about the homework before the meeting.
Take care and happy knitting,