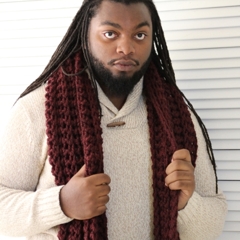 Vincent Williams is the knitwear designer behind Visuvio's Crafts.  Vincent lives in Georgia and his favorite colors are autumnal – which we are experiencing now.
Vincent's Ravelry user name is Visuvioscrafts and his patterns can be found on Ravelry
When he isn't crafting, he's working with dogs, horses, and playing music.  Join all the crafty vibes on his Instagram site and visit the Visuvio's Crafts website for cozy creations, monthly Maker Mood playlists, and fun patterns for makers just like you!
Be sure to check out his Website  and see all the designs Vincent has created.