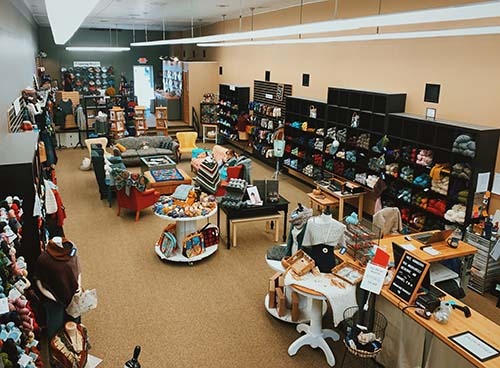 Basic yarn store info:  Yarnology, 65 East Third Street, Winona
We're currently open Tue + Thu — Noon to 6 pm, Wed + Fri + Sat — Noon to 4 pm
We allow only 6 customers in the shop at a time (both to allow room for distancing and so that we can do our best to assist)
Tell us about your team: Kelly is the creative genius of our lead team–she literally wakes up in the middle of the night with amazing ideas for window displays and shop samples. Ingrid is the warm, perceptive heart of the shop–she's likely to remember not only your name, but also what you were working in last time you stopped in. Gaby specializes in "back of house"–she makes sure the bills are paid and loves to pack the online orders.
What yarn do you stock that you feel doesn't get the attention it deserves:  We are known for stocking some amazing European yarns that are hard to find (La Bien Aimee, Biches et Buches, etc.)–and we're very proud of that. But a yarn company that I feel doesn't get the attention it deserves is Minnesota's own Blue Sky Fibers. They offer a breathtaking array of yarns, topnotch design and marketing materials, and are some of the kindest, most generous people in the industry.
What class offerings do you have coming up: While we are not offering classes during the pandemic, we have figured a way to give a bit of guided help for customers who've gotten stuck in the middle of a project. We offer a very limited number of 10-15 minute appointments on Wednesdays and Fridays before we open. Both the customer and the Yarnologist stay masked and distanced, but we have seating for two set up with good lighting and tools–and it's often just enough to get people back on track.
Are you offering virtual classes: We decided not to offer virtual classes during COVID, as so much of the fun in teaching a class is in the proximity. We do encourage people to look for online classes offered by many of knitting's "rock stars"…like those offered via Vogue Knitting Live, for example. Now is a wonderful time to take a class from your favorite designer.
Do you have any upcoming trunk shows or other events: We are in the midst of our 2021 Sweater Challenge, which is lots of fun. It's good to make a commitment out loud to that you are really going to start and finish a sweater. The Challenge officially began Jan 1–but you are welcome to cast on later–and the goal is to bind off by Feb 28. Any yarn, any adult sweater pattern, just go for it. We love the camaraderie and the fact that, even though we're knitting apart, we're also knitting together. Go to the website for more information on signing up.
What is your favorite sample: Oh, wow. This is such an unfair question to ask of a yarn shop owner! Yarnology is a shop that loves samples–so we have a LOT of them. It is lovely to be able to try a thing on before you decide to knit or crochet it, isn't it? I guess my favorite sample at this moment is the Wave of Change Jacket (by the talented Denise Bayron). Kelly knit it using Biches et Buches Le Gros Lambswool and, for me, it achieves the perfect balance between rustic and sophisticated.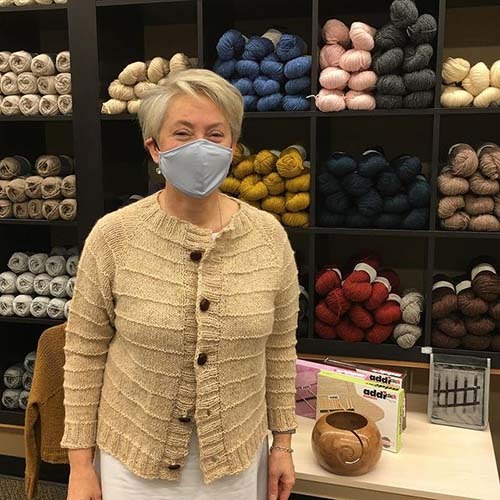 Do you offer a 
MKG
 discount or a frequent buyer club: We offer a 10% discount to MKG members and have a Reward Card system for everyone. We keep track of your dollars spent and send out a $20 gift card in the mail when you reach the mark–no punch card in your wallet.
Other than shopping, what are the best ways we can help support your yarn store: We very much appreciate it when people take the time to like, follow, and comment on our social media posts. The algorithms are always in flux, but having a strong base of active followers helps us get our message seen in a broader way. Also, think about joining our Ravelry group and going to our website–both to browse and to sign up for our emails. We are minimalists when it comes to mailings, so never worry about being deluged.
Is there anything else you'd like us to feature? 
ie
: are you committed to providing extra benefits to employees? are you involved with a local charity? are you committed to being green?: We are committed to keeping everyone (most especially our talented Yarnologists) safe during the pandemic. To that end, our hours are shortened, our gathering spaces temporarily removed, and our capacity in-shop is reduced. On the flip side, we continue to be as full-service as we can be and are able to offer short bursts of shopping assistance, blocking/finishing services, and a lovely on-line shopping experience. We hope customers are willing to work with their LYS to make things work.