Basic yarn store info: Name, Location, Hours of operation and any current policies (e.g., appointment only, drop-ins allowed but only 6 people allowed in the store at one time, etc.)
Yarn Tales 1, Inc.
228 E. Main Street, Suite 111, Anoka, MN
It's like a treasure hunt to find us as we're located at the back of the building.  Folks don't realize we're back here.  We used to be in Suite 114 (current location of Appleberry's Attic) and anticipate moving into Suite 101 once more of the pandemic protocols are relaxed.  That should make it easier to find us.
Hours are Wed – Sat from 9-5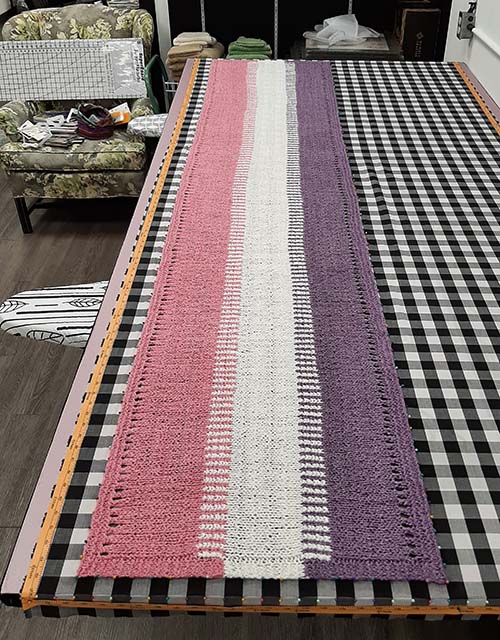 Open stitching times are Wed- Fri from either 9-11 or 1:30-4:30.  Reservations are not required but encouraged as seating is limited to six people to ensure social distancing.  There is no charge for a single weekly visit.  More frequent visits there is a $10 requirement of an in shop purchase.
Tell us about your team or would you like to highlight someone special?
Shirley Temple Black Bear!  Just Bear for short.  She is my puppy love and an Australian shepherd Poodle mix that comes in about once a week.  Photo attached below.
What yarn do you stock that you feel doesn't get the attention it deserves?
Plant based fibers; cotton, linen, hemp, bamboo, and other cellulose based fibers.  For those of us with skin sensitivities these yarns are often overlooked in the LYS world.  So many people need hypoallergenic alternatives that this shop specializes in these fibers.  (Even the dog is hypoallergenic!)
What class offerings do you have coming up?
While there is actually nothing on the calendar at the moment, we usually have one workshop a month on a Sat afternoon for three hours.  The next few should include Latvian braids, herringbone stitches, and  blocking/finishing.
We're awaiting the final shipment of Jody Long's Coastline yarn to start a KAL which will occur on Tues evenings.
Classes for beginning knitting and crochet are currently scheduled as requested on an individual basis as we continue to remain cautious with the pandemic protocols.  I'm anticipating children's (8 years old and up with an adult accompanying them) classes this summer every two weeks but waiting to see what the Governor announces in May.
Are you offering virtual classes?
No.
Do you have any upcoming trunk shows or other events?
Working with KFI on a trunk show in June for Gedifra's Fior di Seta / Fior di Seta Color silk yarn.  They haven't gotten back to me yet on whether there are garments available yet.
What is your favorite sample? photos encouraged
Attached below.  It's pattern I made up for Juniper Moon Farm's Bud yarn.  It's 100% certified organic Peruvian cotton.  It takes 9 skeins (3 each color) and us a table runner.  But you could use it as a rectangular shawl wrap also.  I have a similar one I made for my aunt for Xmas out of Trailhead Yarns Yosemite yarn.  It's another 100% organic cotton yarn.
Do you offer a MKG discount or a frequent buyer club?
Yes, 10% discount for MKG members.
Other than shopping, what are the best ways we can help support your yarn store?
Get the word out about the versatility of plant based fibers!
Is there anything else you'd like us to feature? ie: are you committed to providing extra benefits to employees? are you involved with a local charity? are you committed to being green?
We support the local ACBC food shelf every year around Xmas time along with the other shops in the building.
I attempt to support US mills,  manufacturers, and distributors whenever possible.  Or least try to keep the carbon footprint smaller.  Not always successful at it, but we keep trying.
If things keep improving around here, then I'm hoping to hire someone later in the summer or fall.