Basic yarn store info: Name, Location, Hours of operation and any current policies (e.g., appointment only, drop-ins allowed but only 6 people allowed in the store at one time, etc.)
Our store is Potomac Bead Company @ 518 Broadway in Alexandria, MN. We are the child store of Potomac Beads – an online bead store – but we carry yarn as well as jewelry making supplies. We are open Tuesday – Saturday 10-5. We are not currently doing in person classes or group knitting.
Tell us about your team or would you like to highlight someone special?
Our team is small. Co-owners Deb Kerr and Kyle Anderson are retired school teachers who left teaching in State College, Pennsylvania in 2015 and re-careered as retail store owners in Alexandria. Kyle grew up in St Cloud and wanted to get closer to home and this is how we did it! We love teaching and we are committed to creating an environment where people feel safe and supported when trying new things.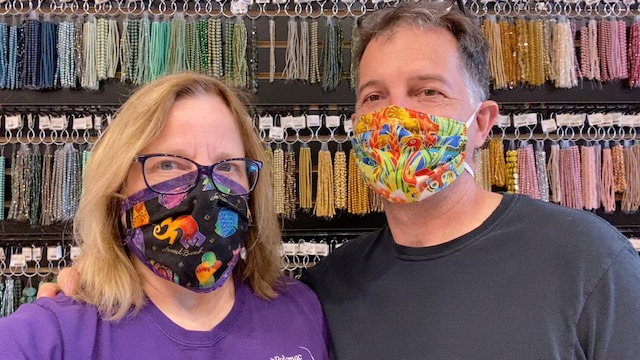 What yarn do you stock that you feel doesn't get the attention it deserves?
We love all our yarns. After losing all our yarn due to smoke damage from a large fire in downtown Alexandria about a year ago, we were able to be purposeful about the yarns we brought back in. Deb's favorite work horse yarn right now is Ultra Alpaca from Berroco. We love our Malabrigo yarns, particularly Rios, but they get lots of attention. We love our hand-dyed yarns from Three Irish Girls, Meadowcroft Dyeworks and Sweet Georgia.
What class offerings do you have coming up?
In person classes are on hold…
Are you offering virtual classes?
We are doing some classes via Zoom. We just finished up a beginning sock class and we are in the middle of a beginning knitting class. We are also using Zoom for jewelry classes, social knitting twice a week and knit along check-ins.
Do you have any upcoming trunk shows or other events?
We will be participating in the second annual Road Trip Mystery Knit Along sponsored by Really Clear Designs beginning 4/17 (Local Yarn Shop Day). During the knit along we'll be virtually traveling around the state of Maryland. We had a ball doing this knit along last year as we traveled through Pennsylvania and we are excited for this year's trip!
What is your favorite sample? photos encouraged
The Make a Million Shawl made from a mini-skein gradient set and another skein of sock yarn has been really popular. We did this as a knit along a few years ago and lots of folks added beads. Fox Paws from Mirasol Sulka Legato and our Road Trip Mystery shawls from last year's knit along are also great pieces. And we love knitting with beads like this little beanie, Slip and Bead.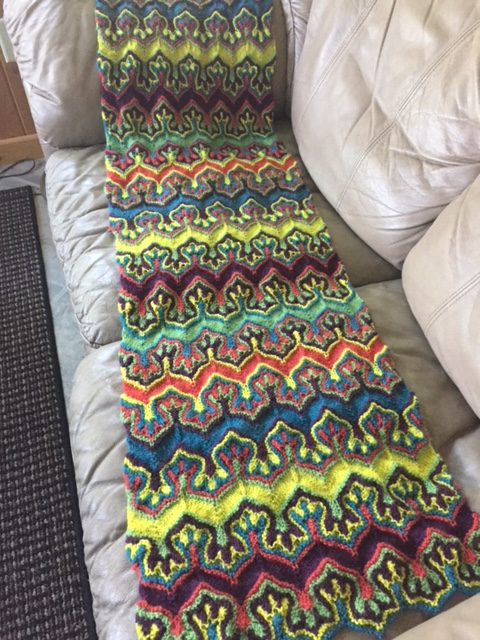 Do you offer a 

MKG

 discount or a frequent buyer club?
We have a rewards program for all our customers which we track through our point of sale – no punch cards! Spend $250 and earn a $15 reward.
Other than shopping, what are the best ways we can help support your yarn store?
We love having people follow our posts on Instagram and/or Facebook. It's amazing how many people have learned about us from a friend's like or share.
on Facebook @PBCAlexandriaMN   on Instagram @potomacbeadminnesota
Is there anything else you'd like us to feature? 

ie

: are you committed to providing extra benefits to employees? are you involved with a local charity? are you committed to being green?
We are excited to be a drop-off location for the guild's Service Knitting partner projects. We just announced our support 2 weeks ago and already have a basket brimming with hats, mittens, and cowls. People are so generous and we love that we can help get our knitted treasures to those in need.