The results are in and Minnesota Knitters' Guild members won 93 ribbons in hand knitting categories this year! Here are our winners by category.
First the winners of the Minnesota Knitters' Guild rosettes. These people each win a year membership to the Guild along with their ribbon.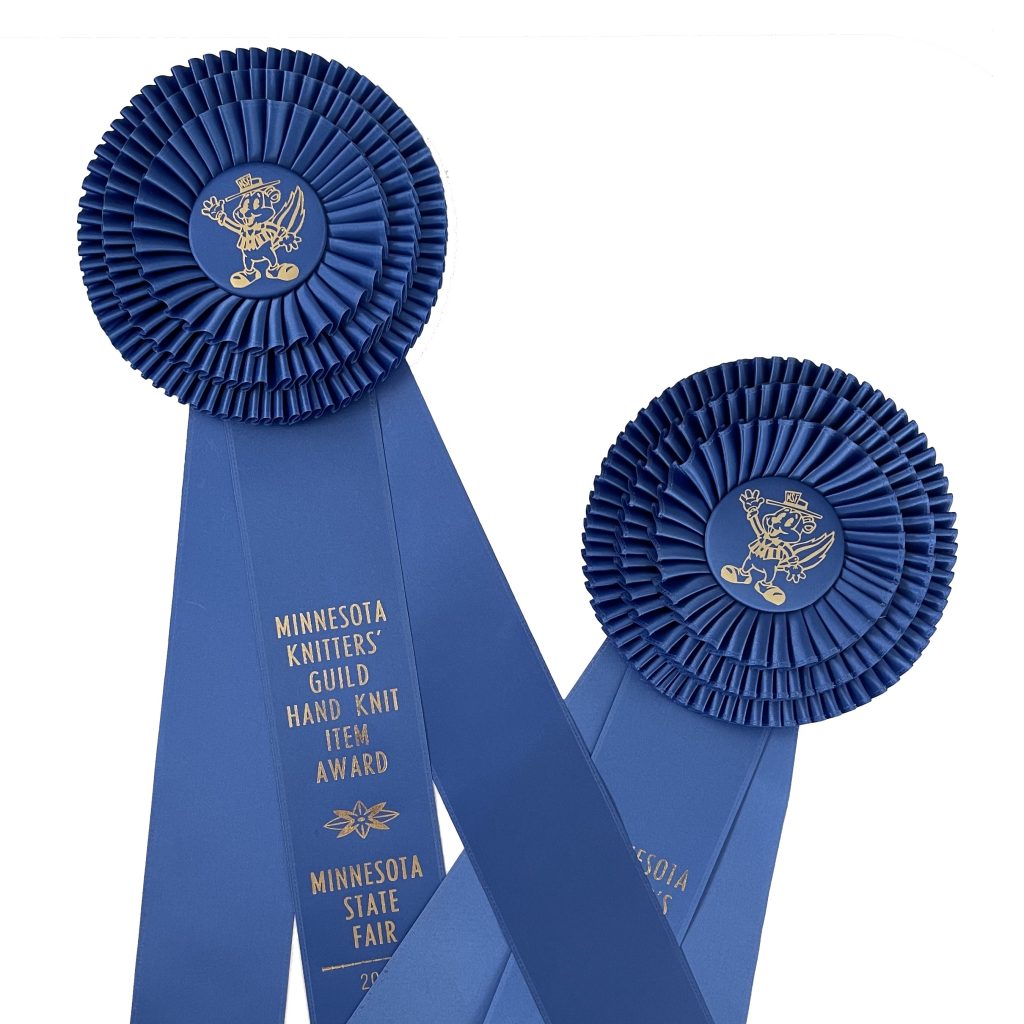 NEEDLEWORK CLASSES
Best Hand Knit Item – Audrey Koval
Best Shawl  – Brooke Roegge
Best Mittens – Audrey Koval
Best Hat – Susan Rainey
Best Afghan – Suzanne Ross
Best Sweater – Susan Rainey
Best Socks – Shelley Balfe
Best Gloves – Lucy Norman
Now on to the rest of the ribbon winners.
Afghan, made in strips or modules sewn together, 2700-3800 sq. in.
1 – Suzanne Ross
Shawl or stole, heavy weight yarn, 16 in. or more in width
4 – Christine Petterson
5 – Deepa Nirmal
Shawl or stole, medium weight yarn, 16 in. or more in width
2 – Shelley Balfe
4 – Sharon Knutson
5  – Stephanie Daily
Stole (rectangle), lightweight yarn, 16 in. or more in width
2  – Tiffany Payne
3  – Elizabeth Nee
4  – Barbara Morgan
5  – Joan Ulwelling
Shawl, fine weight yarn, 25 in. and over in depth from neckline
Shawlette, medium weight yarn, up to 25 in. in depth from neckline
2  – Christine Petterson
Mittens (includes fingerless gloves), texture
2 –  Shelley Balfe
Scarf, heavyweight yarn, less than 16 in. wide
1 –   Stephanie Daily
Scarf, medium weight yarn, less than 16 in. wide
3 –   Joan Ulwelling
Scarf, lightweight yarn, less than 16 in. wide
2 – Brooke Roegge
4 – Kelly Amoth
Gloves
1 – Lucy Norman
3 – Bonnie Esplie
4 – Joan Ulwelling
Cap or hat, plain
2 – Bonnie Esplie
5 – Elizabeth Nee
Cap or hat, color pattern or intarsia
1 – Susan Rainey
2 – Bonnie Esplie
3 –  Steve Robb
Socks, solid, texture
1 – Christine Petterson
3 – Kristi Peterson
4 – Carrie Ohnstad
5 – Barbara Morgan
Socks, open work
2 – Bonnie Esplie
3 – Tiffany Payne
5 – Christine Petterson
Socks, color or intarsia
1 – Shelley Balfe
3 – Christine Petterson
5 – Kelly Amoth
Socks, plain or ribbed
4 – Kristi Peterson
5 – Shelley Balfe
Child sweater, dress or suit, plain, size 3 – 12
2 – Elizabeth Nee
Child sweater, dress or suit, texture, size 3 – 12
3 – Bonnie Esplie
4 – Laura Keller
5 – Elizabeth Makarewicz
Child sweater, dress or suit, color pattern or intarsia, size 3 – 12
4 – Megan Knudson
Adult sweater, plain pullover
1 – Kira Wortman
5 – Elizabeth Nee
Adult sweater, plain cardigan
4 – Joan Ulwelling
Adult sweater, texture pullover
3 – Evelyn Davidheiser
5 – Kate Campbell
Adult sweater, texture cardigan
1 – Evelyn Davidheiser
4 – Tiffany Payne
5 – Deepa Nirmal
Adult sweater, limited use, texture pullover
4 – Deb Parker
Adult sweater, limited use, texture cardigan
4 – Kjersti Campbell
Adult sweater, color pattern cardigan
2 – Katherine Lewinski
3 – Joan Ulwelling
4 – Evelyn Davidheiser
Adult sweater, limited use, color pattern pullover
1 – Susan Rainey
2 – Tracy Pokrzywa
Adult sweater, limited use, color pattern cardigan
1 – Susan Rainey
2 – Cindy Haughey
3 – Joan Ulwelling
Adult sweater, intarsia
4 – Kate Campbell
Adult jacket/coat, outerwear
1 – Tiffany Hill
Sleeveless sweater or vest, plain or texture; color pattern or intasia
1 – Susan Rainey
2 – Kristi Peterson
4 – Linda McShannock
Cowls
2 – Susan Rainey
4 – Bonnie Esplie
5 – Deb Parker
Knit bag, non felted
2 – Susan Rainey
Knit item, wearable, felted