Service Knitting 2021
At this month's meeting, we kicked off our service knitting campaign for 2021 by meeting our three new community partners.
Hats and Mittens collects and distributes hats and mittens to those who need them in the 7-county metro area (though that area is expanding). They can use hats and mittens in sizes from babies to adults. They do tend to get a lot more hats than mittens, so if you are a mitten knitters those would be really appreciated. While they can use all sizes, they do have a need for items that fits ages 12 -15 years. They can except items made from any fiber.
Hats for the Homeless knits, collects, and distributes hats in the Twin Cities area. They need simple adult hats made for warmth. Hats need to be long enough to cover the ears and those that double over the ears are best. Hats that are knit with worsted yarn in a tight gauge. They prefer darker colors without a pattern or embellishments. There are free patterns on their website and they also highly suggest The Minnesota Hat. Acrylic yarn alone is not warm enough, so they suggest using washable wool, acrylic/wool, or other wool blends.
The Range Center helps people with intellectual/developmental disabilities to build skills and self-esteem in Northeastern MN. They can use all items hats, mittens, fingerless gloves, scarves, and lap blankets. This is your time to have fun with color and patterns, but please use washable fibers. Clients get to pick their own items and having fun things to choose from can be a highlight in someone's day.
We will have drive up drop-off days at the Textile Center throughout the year with the first being in April. You will also be able to pick up yarn to use for service knitting on those days. If you can't make a drop-off day, you can send items to us care of the Textile Center (address is here). We are also planning on having drop-off days at other locations around the state, stay tuned for details on that!
Service Knitting Thank You Gifts
This year we want to thank those of you who use your time and talents to help with our service knitting with some small gifts. We have curated a set of progress/stitch markers and as you donate more items through 2021 you will receive more parts of the set.
When you make a donation, we will keep track of how many items you donate. When you reach the levels below you will receive a marker.
5 items – sheep
15 items – yarn
25 items – scarf
35 items – mittens
50+ items – a custom Minnesota Knitters' Guild logo marker. (These will be awarded at the end of the year as we will have them made based on how many we need.)
Online Auction
Thanks to everyone who participated in our online auction. All the lots were sold and there was quite the bidding war on some! The Guild made just over $2,000 to use towards our service knitting and other activities. Because of the positive response, we will have another online auction later in 2021 as it is a way to include our members who live outside the Twin Cities.
Sunday Knitting Brunch
Our next Sunday Knitting Brunch is Sunday, January 31st 11:00am – 1:00pm. This is a purely social knitting get-together. We plan to continue them every other Sunday through at least February.
Upcoming Meetings:
February Annual Meeting
Our February 16th meeting is our required annual meeting. We will give a brief overview of how the Guild did in 2020, including financials and some goals for 2021. Our annual report will be available on the website after the meeting.
We'd also love to see how our members did in 2020 and invite you to submit a photo of the project you are most proud of from 2020 for the slideshow. Please email a picture, name of the pattern (if there is one), yarn used, and why you are proud of this project. This can be something that was a challenge for you, something that was sitting in your WIP for years, a first sweater or other items, etc… Email your submission to Nikky.
March Meeting
Our March 16th speaker will be Kim McBrien Evans who will speak about size inclusive knitting. Her yarn company Indiogodragonfly Yarns will be featured in our 6:30 trunk show before the meeting.
April Meeting
Our April 20th speaker will be Sarah Schira of Imagined Landscapes.
Programming Committee Members Needed
Do you like our monthly Newsletters? We do too! But they're getting to be too much work for one person to put together each month!
We're starting a Programming Committee and we need your help! This committee will help come up with monthly programming ideas and compile components of the monthly Newsletter. If you're interested, email 
Jess
.
Featured Designer – Lindsey Fowler
Read all about this month's featured designer. She has some wonderful patterns that use up all those mini skeins you got in your holiday countdown calendar!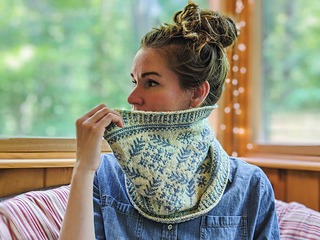 Prizes
We awarded prizes to eight random members who renewed or joined by the end of December 31, 2020. All the prizes will be purchased from local fiber related vendors, many of who have been Yarnover vendors.
Ada Vanderwiel – Knitting/Crochet Notions Bag from Becka Rahn
Susan Bathory – Yarn Bowl from Blue Room Pottery
Shirley Nygaard – Stitch Marker Set from Blue Room Pottery
Maressia Twele – Project Bag from Crafty Like a Monkey
Kristine King – Shawl Pin from Knitter's Journey
Heather Hart – Stitch Saver or Crochet Hook Set from Stunning Strings Studio
Zoe Cohen – Equivalent 2 skeins yarn from Lavender Lune Yarn Co.
Judy Ellis – Mini-Skein Set from Stunning Strings Studio
Door Prizes 
Nomad Knits Issue 8 (Washington) – Christine Caldarale
Lindsey Fowler Pattern – Andrea Zukor
Lindsey Fowler Pattern – Becky Huerta
Trippin' With Dixi Trunk Show code – Susan Boinis
Textile Center Fiber Arts For All
The Textile Center will be hosting an in person and virtual Fiber Arts for All festival February 21 – 27th. The event will feature interviews, talks, workshops, and an online auction. Watch for details in the Textiles on the Town newsletter and on the Textile Center website.