July Minnesota Knitters' Guild Meeting
July 19, 2022 @ 7:00 pm

-

9:00 pm
Blocking and Fiber Care: So Much Easier Than You Think! with Kate Atherley
Blocking: it's a critical step in the finishing process for hand knits, and is all too often ignored or skipped. It's incredibly easy, and the value it provides is immense, taking an item from complete to truly, beautifully finished. This session will demystify the process, breaking it down by both fiber and project type. Along the way, we'll also talk about fiber care: safely and easily washing handknits – when you can use the machine and when you should handwash (or not wash at all). We'll also talk about moth prevention, and safe yarn and garment storage.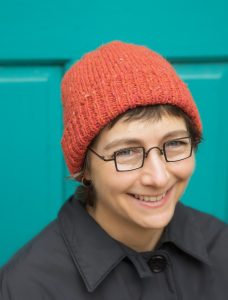 KATE ATHERLEY is a knitting author, teacher, and editor. Her latest book, Custom-Fit Hats is her ninth, and the fourth in a series on customizing projects for perfect fit and style; it joins works on shawls, socks, and mittens. She's also the co-founder and publisher of Digits & Threads, an independent, member-supported online magazine about Canadian fibre- and textile arts, crafts and industry. The combination of her university degree in mathematics, professional experience in software development and usability, and training in garment and fashion design give her a unique perspective. She lives in Toronto with her husband and their rescue dog Winnie. www.kateatherley.com
Members can find the Zoom link for this meeting on the Dashboard here. You must be signed in to access the Dashboard.