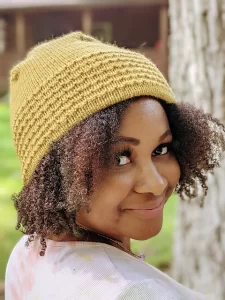 This month we are spotlighting Safiyyah Talley.  She is well known as The Drunk Knitter.
Safiyyah lives in Indiana and designs a variety of patterns from hats to mittens and shawls. She even has designed a baby shawl!!
She is very famous for her forever socks and has written a book Knit 2 Socks in 1 that we have in our library at the Textile Center.  Check out her website where she has videos and links to her True Crime and Knit podcast.
Safiyyah can be found on Ravelry  and her website is The Drunk Knitter.com