Did you miss this month's meeting? Here's a short wrap up.
Program Recap
This month's meeting featured Guild member Karen Lehman who shared about her adventures participating in the Shave Em to Save Em initiative and what she learned about different sheep breeds through making puppets out of their wool. I didn't know there were so many unique breeds of sheep and really enjoyed hearing about Karen's creative process.
Here are the resources Karen shared during the meeting:
Organizations:
Sheep and People:
Barbados Blackbelly, Will Hueston & Pam Hand, Springwood Farm, Free Union, VA.
Cotswold, Tami Bowser, Windridge Fiber Farm, Holland, WI.
Jacob, Theresa Bentz, Northfield, MN. www.getbentzfarm.com
Publications:
The Fleece & Fiber Source Book, Deborah Robson & Carol Ekarius, Storey Publishing, 2011.
Yarn Works, W. J. Johnson, Creative Publishing International, Inc., 2014.
Estonian Hand Puppets, Anu Kotli & Carol H. Rhoades, Spin Off, Summer, 2006.
If you missed the meeting or want to watch it again, you can find the recording on your dashboard after it has been edited and uploaded. Remember to login to your dashboard in order to access the video recording.

Give to the Max Day 2022 Recap
Thanks to everyone who donated during Give to the Max Day, Minnesota's annual day of giving. The Guild received $1706 in donations.
Board Update
The Programming Director position still remains open on the board.
If you have questions about the role or are interested, email Kelly at president@knitters.org
Thank you to everyone who knit service items for the Guild's service partners, Sonya's Hope and MoveFwd, this year. We were also able to support Hats & Mittens and Resource West with donated items.
Total donations this year were:
Hats: 1043
Mittens: 250
Scarves: 89
Lap Blankets: 23
Shawls: 8
Slippers: 86
Baby Sweaters: 2
Socks: 17
Dishcloths: 187
For a total of 1705 items!
Number of Groups or Individuals that made donations in 2022: 77
Extra thanks to the following individuals and groups who donated over 50 items this year:
Potomac Bead Company  (Donation collection point in Alexandria, MN)
Nancy Knoth (Knitting group at Emma B Howe Family YMCA, Coon Rapids, MN)
Rachel Imbrock & Pema Lama
Kim Freeman
Judy Nielsen
Margaret O'Brien
Teresa Bohannon
Patricia Mendez
Anna Turk
ML Egan (donations collected at Yarnery)
Rose Tobelmann
The next service drop off date will likely be in the spring, but in the meantime you can always bring items to the Sip and Knit and Knitting Around Town events. Check the calendar for upcoming dates and locations.
Upcoming Events
Remember to check the Guild's calendar for all upcoming events!
Sip and Knit

Come and join us January 07 from 10:00am to noon for coffee, beer, donuts, and crafting with friends!
Food & Drink: Venn has espresso drinks, coffee, tea, soda, and juice, as well as beer for purchase. You can bring in your own water. The Guild will be bringing donuts. You are welcome to bring other food as well.
Getting There: The Blue Line 46th Street Station is just outside the brewery. It just down Hwy 55 from Minnehaha Falls and the Grand Rounds bike path. There are Venn specific parking spots to the north of the building and on-street parking.
You can also park at the Fort Snelling Park and Ride and take the Blue Line north 3 stops.
Dogs: Dogs are welcome.
Thanks to Venn Brewing for hosting us!
Knitting Around Town

Guild members on the move! Let's visit a new library in the metro area each month to get together and knit!
Mark your calendar for:
Sunday, January 15th: noon to 4:00 p.m.
Saturday, February 18th: noon to 4:00 pm
Eden Prairie Public Library – in the Bluestem Room
Thursday, March 16th – location TBD
Sunday, April 23 – location TBD
Questions or want to suggest a location? Email Meg, vicepresident@knitters.org
Yarnover 2023 (September 22-24) is starting to shape up. The full class and teacher list is live. Check out the Yarnover page to catch with any news you've missed.
Designer Spotlight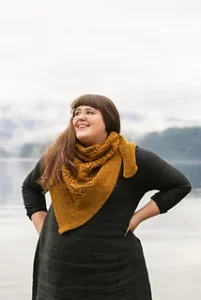 Our Designer Spotlight is Sylvia McFadden.  Sylvia hails from Vancouver, BC and designs patterns "her own way."
We like her because of the variety of designs and her comment: "As someone who has been low-income most of my life it is important to me to be able to make my designs accessible to folks in tight financial situations! "  She is passionate about anti-racism work, mental health awareness, fat liberation and working with young folks (and fighting ageism)
Thanks to Meg Duncan for the suggestion.  I'm sure you will enjoy perusing Sylvia's designs on Ravelry.  Sylvia also has a website
The Guild seeks to highlight:
BIPOC designers
Local designers
New designers
Designers should also have:
A presence on Instagram
Multiple patterns on Ravelry
If you have a designer you'd like the Guild to spotlight, email Rose. And don't forget that if your designer is chosen, you will receive one of the designer's patterns!
Library Update
The following books and journals have been added by the Guild to the library at the Textile Center.
A Shetland Knitters Notebook by Mary Smith
Charming Colorwork Socks by Charlotte Stone
Vogue Knitting Lace
Beyond Knit and Purl by Kate Atherley
Ready Set Socks by Rachel Coopey
MDK Field Guides (the full set!) by Kay Gardiner and Ann Shayne
Making #14 (last print issue)
Making #1-4, 6 (back issues)
Wool Week Annual, Vol. 8 – 2022
Amirisu #25 – Winter 2022
Rowan #72
Not sure how to check out a book or want to search the catalog? Go here to get started: Textile Center Library
Have a book suggestion or request? Email Anne at librarian@knitters.org
Mini Roosimine Show-and-Tell
Did you knit Tanis Gray's roosimine hat, another project using the technique or have a work in progress after the October meeting?
Nikky would love to share these at the next meeting. Send her at email (membership@knitters.org) to share about your project.
Next Meeting
Service Partner Kick Off
Join us at the January meeting to learn about the service partners the Guild will be supporting in 2023!
Hope to see you there.
Take care, stay warm, and happy knitting!