Did you miss this month's meeting? Here's a short wrap up.
Program Recap
See the State Fair Review show and tell blog post for the slides and project links.
For all the details shared during the meeting about the entries, including the judges' comments, check out the meeting recording on your member dashboard. You must be signed in to access your dashboard. The State Fair Show and Tell begins at about the 19 minute mark.
We are still collecting items for MoveFwd (Move Forward) through the end of the year.
They are looking for:
Hats and mittens
(sizes to fit kids through adults)
Scarves
Warm socks and slippers for young adults
Lap blankets
Cotton washcloths
The next service drop off date is Sunday, October 23 from 11 am – 2 pm in the back parking lot of the Textile Center.
All items need to be machine washable. Remember to also wash your finished items before dropping them off.
Upcoming Events
Remember to check the Guild's calendar for all upcoming events!
Sip and Knit

Come and join us October 1st from 10:00am to noon for coffee, beer, donuts, and crafting with friends!
Food & Drink: Venn has espresso drinks, coffee, tea, soda, and juice, as well as beer for purchase. You can bring in your own water. The Guild will be bringing donuts. You are welcome to bring other food as well.
Getting There: The Blue Line 46th Street Station is just outside the brewery. It just down Hwy 55 from Minnehaha Falls and the Grand Rounds bike path. There are Venn specific parking spots to the north of the building and on-street parking.
You can also park at the Fort Snelling Park and Ride and take the Blue Line north 3 stops.
Dogs: Dogs are welcome.
Thanks to Venn Brewing for hosting us!
Knitting Around Town

Guild members on the move! Let's visit a new library in the metro area each month to get together and knit!
Join us at the Maple Grove Public Library in the large meeting room on Saturday, October 15 from 9 am – 1 pm.
Questions or want to suggest a location? Email Meg, vicepresident@knitters.org
Designer Spotlight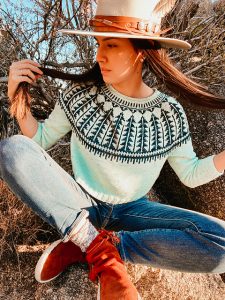 The featured designer this month is Jennifer Berg who presented at the August meeting. So many people shared at the meeting that they have loved knitting her patterns. Check out Jennifer's patterns. Read all about Jennifer here.
The Guild seeks to highlight:
BIPOC designers
Local designers
New designers
Designers should also have:
A presence on Instagram
Multiple patterns on Ravelry
If you have a designer you'd like the Guild to spotlight, email Rose. And don't forget that if your designer is chosen, you will receive on of the designer's patterns!
Door prize winners this month of a pattern of their choice from Jennifer Berg are:
Next Meeting
Estonian Inlay/Roosimine with Tanis Gray
Tanis Gray will be joining us to teach about the art of Estonian Inlay, or Roosimine, in this hat workshop! Originating from the western Estonian island Muhu, this stranding technique has been used for centuries to embellish knitting. Sharing similar characteristics of stranded colorwork, intarsia, and embroidery, this beautiful technique adds texture and color to your knits. We'll be making the 2-colored version without the braids, but 3 colors may also be used for the Roosimine technique if desired. We will also cover blocking and finishing techniques, and get a great foundation started on a hat pattern in DK weight yarn!
This meeting is a workshop and will use a hat pattern to demonstrate the technique. The materials needed and homework are listed below. You are welcome to sit-in and learn about Roosimine without doing the hands-on portion.
See the event calendar for all the details about the homework before the meeting.
Looking forward to seeing you all at the meeting next month. Anyone cast on a new sweater during these first few days of fall?
Take care and happy knitting,