Wow, did we ever have an interesting meeting with Laura Bellows of JUL Designs. We looked at how to play with and style our shawls in different ways to show them at their best. I think many of us walked away with some new ideas about what to look for in shawl patterns in the future.
For members who missed the meeting or would like to watch it again, the recording will be up in the members' area once it has been edited. Also Laura has kindly offered us 15% off her beautiful closures, pins, buttons and more with the code GUILD.
Donation Drop-Off Event
Our last 2021 drop-off event for service knitting projects is this Sunday, October 24th at the Textile Center from 11am – 2pm in the back parking lot. If you cannot make this date or have questions please contact Betsy at servicemnkg@gmail.com. We will be accepting donations through the end of the year, but just won't have another open drop-off event.
Great Guild Getaway Yarn for Sale
We will have skeins of the custom-dyed GGG yarn for sale at the above drop-off event. The yarn is called repose and is inspired by Minnesota lakes and skies in late fall and winter. It was dyed for us by Muse2320.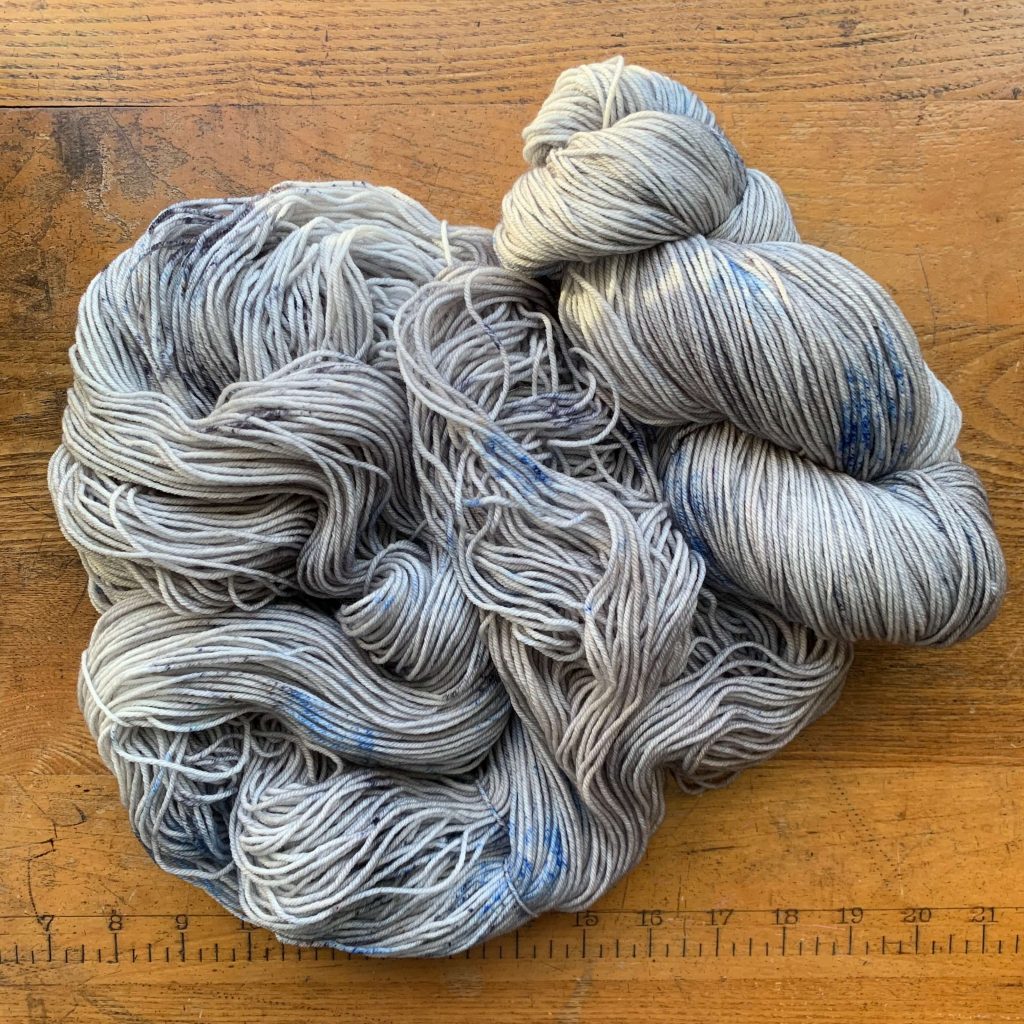 Each skien is 100g/437yds of fingering weight in 3 ply 85% superwash Merino and 15% nylon yarn. The cost is $20 and we will take cash, check, or charge. Unless we sell all 70 skeins, we will have available in the future again.
New Free Pattern – Broadway Ave. Socks
We also have a new free pattern for our members designed to use the GGG yarn. Our member Halee Graham won the GGG Design Contest back in 2019 and we are thrilled to finally be able to share it with you. The pattern will be available starting this Friday, October 22nd on the pattern page in the Members' Area.
Also, thanks to member Deepa Nirmal for taking all the lovely photos of the Broadway Ave Socks for us.
New Website Update
For the last few months we have been working with the local company Byte to create a new website for the Guild. Our current website is quite old. We are looking forward to the launch of a new site that is mobile friendly, easy to use, and ADA compliant. The new site should be ready to launch in late November. We will do walk-throughs of it at our December and January meetings.
MKG Mini KAL
Our Mini KAL will be starting December 1st! So, get your minis ready! Mini-skeins are 20 grams of the same yarn base and vary in yardage from 80-95. Pick out, or design, a pattern to show off your minis, we have put up lots if suggestions in our Ravelry group. You can use as many minis as you like and up to two other background colors in larger amounts. We'll show off the finish projects at our February meeting and two people will win $25 gift cards to the LYS of their choice.
"The Good Stuff" Online Auction
Our online auction this year will start at 9pm November 16th and run through 9pm November 20th. We have lots of wonderful lots of year to bid on. We'll do an overview of the auction site at our November meeting and send the link to bid out right afterwards.
Library Update
Here is what is new in the library this month…
Amirisu #22
Gansey Knitting Sourcebook
New Directions in Sock Knitting
Questions or suggestions? Contact our librarian Anne librarianmkg@gmail.com
Designer Spotlight
Our designer of the month is Mary O' Shea. You can read about her here.
Door Prizes
Amirisu #22 Digital Copy – June Lash
Mary O'Shea Pattern – Rosie Robinson
Mary O'Shea Pattern – Irina Bezroukova
Give to the Max Day
Thursday, November 18th is Minnesota's annual day to spotlight giving to non-profits, Give to the Max Day. Last year the Guild raised funds to support the fellowship portion of our mission statement. This year we are raising money for education. We are hoping to offer educational grants in starting in 2022 to help members pay for certification classes such as those offered by the TKGA.
You can help the Guild by creating your own fundraising page or starting a team with other knitters.
Go to Give to the Max Day
Scroll down to the Fundraising button and click it:
You will see the three different fundraising options. You want to "Start a Fundraiser," which is the purple column:
Type in and select Minnesota Knitters' Guild as your cause:
You will now see your personal fundraising page. You get to add photos, your story, and set a goal for your fundraiser. When you are done with your page, you will get a link to share with family and friends. You can also use the built in sharing tools to share your fundraiser page to your Facebook and/or Twitter accounts. When your fundraiser page is final and published, it will show up on the Guild's main Give to the Max Day page, too.
If you have questions or want help filling out a fundraiser page, send Kelly (vicepresidentmkg@gmail.com) an email!
Thanks for your continued support of the Guild through Give to the Max Day!
Watch for the "No Fair" Awards results in an upcoming post!