Did you miss this month's meeting? Here's a short wrap up.
Trunk Show with PurlTalk Yarns
After a long hiatus, we had a trunk show with PurlTalk Yarns. She not only shared some of her beautiful yarns, but also about her process and inspiration.
Laura generously shared a coupon code with us to use on her website. The code BESTGUILDEVER will score you 10% off your purchase!
(This is the mini skein set Laura shared that she used for her mini sweater bunting. It's called Shiny Bright Holiday.)
Program Recap
This month's meeting featured Janine Bajus who shared with us her journey with color and inspired us all to find new ways to play with color and find our own color confidence. I've never swatched for color before, but after Janine's presentation, I definitely will in the future!
These are the resources Janine shared during the meeting. Many of the books of her list are in our library! Color-Confidence-Resources
If you missed the meeting or want to watch it again, you can find the recording on your dashboard after it has been edited and uploaded. Remember to login to your dashboard in order to access the video recording.
Give to the Max Day 2022
Give to the Max Day is Minnesota's annual day of giving for nonprofits and schools. Your donation will ensure that the Guild can continue booking great programs like Janine's this month and all the other wonderful speakers we have had on our calendar this year. Funds will also be used for need-based grants to attend Yarnover next year. If your membership dues for next year are coming up, would you consider pairing your renewal with an additional donation to the Guild?
The Guild uses the GiveMN platform for donations year round, but Give to the Max Day is an opportunity for you to show your appreciation for the Guild.
Silent Auction is live!
Get your bids in on some really great lots of yarn in this year's silent online auction. Bidding goes through Saturday, November 19 and all bids will be final at 8 pm. Yarn will be mailed out November 20-22!
We are still collecting items for MoveFwd (Move Forward) through the end of the year.
They are looking for:
Hats and mittens
(sizes to fit kids through adults)
Scarves
Warm socks and slippers for young adults
Lap blankets
Cotton washcloths
All items need to be machine washable. Remember to also wash your finished items before dropping them off.
You can also drop off your service knits at the Sip and Knit and Knitting Around Town events. Check the calendar for upcoming dates.
Thanks to everyone who has knit service items this year. We have collected over 1700 items for our partners!
Upcoming Events
Remember to check the Guild's calendar for all upcoming events!
Sip and Knit

Come and join us December 3 from 10:00am to noon for coffee, beer, donuts, and crafting with friends!
Food & Drink: Venn has espresso drinks, coffee, tea, soda, and juice, as well as beer for purchase. You can bring in your own water. The Guild will be bringing donuts. You are welcome to bring other food as well.
Getting There: The Blue Line 46th Street Station is just outside the brewery. It just down Hwy 55 from Minnehaha Falls and the Grand Rounds bike path. There are Venn specific parking spots to the north of the building and on-street parking.
You can also park at the Fort Snelling Park and Ride and take the Blue Line north 3 stops.
Dogs: Dogs are welcome.
Thanks to Venn Brewing for hosting us!
Knitting Around Town

Guild members on the move! Let's visit a new library in the metro area each month to get together and knit!
Join us at the Eden Prairie Library in the Bluestem Room from 5:30-8:00 pm on December 1.
The dates for 2023 are
January 15 – Sunday
February 18th – Saturday
March 16th – Thursday
April 23 – Sunday
Watch for updates on meeting locations.
Questions or want to suggest a location? Email Meg, vicepresident@knitters.org
The teachers for Yarnover 2023 were announced at this month's meeting.
All of the teachers coming and their bios can be found here: Yarnover Teachers
Designer Spotlight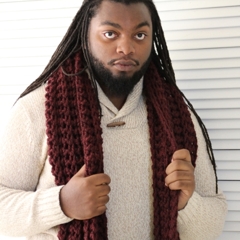 Vincent Williams is the knitwear designer behind Visuvio's Crafts.  Vincent lives in Georgia and his favorite colors are autumnal – which we are experiencing now.
Vincent's Ravelry user name is Visuvioscrafts and his patterns can be found on Ravelry
When he isn't crafting, he's working with dogs, horses, and playing music.  Join all the crafty vibes on his Instagram site and visit the Visuvio's Crafts website for cozy creations, monthly Maker Mood playlists, and fun patterns for makers just like you!
Be sure to check out his Website  and see all the designs Vincent has created.
The Guild seeks to highlight:
BIPOC designers
Local designers
New designers
Designers should also have:
A presence on Instagram
Multiple patterns on Ravelry
If you have a designer you'd like the Guild to spotlight, email Rose. And don't forget that if your designer is chosen, you will receive on of the designer's patterns!
Mini Roosimine Show-and-Tell
Did you knit Tanis Gray's roosimine hat, another project using the technique or have a work in progress after the October meeting?
Nikky would love to share these at the December meeting. Send her at email (membership@knitters.org) to share about your project.
Next Meeting
Pandemic Puppets with Karen B. Lehman
Making puppets is one of Karen's favorite things. In June of 2020, during the Covid lockdown, she discovered the Shave 'Em to Save 'Em Initiative of the Livestock Conservancy. This program supports the breeders of endangered sheep breeds by encouraging fiber artists to buy their wool. Her exploration has resulted in a series of hand spun, free form, knitted puppets representing each breed she's explored.
During the Guild meeting she will touch on her puppet making history; showcase the puppets resulting from the Shave'Em to Save 'Em Initiative; and briefly explore the construction and making of a free form puppet.
Take care and happy knitting,