Did you miss this month's meeting? Here's a short wrap up.
Trunk Show
Jill Zielinski of North Bay Fiber joined us for a trunk show of her yarns and also shared some patterns with us.
She has graciously offered members a discount to her online shop through the end of June. Log into your member dashboard to find the code.
Program Recap
Paola Vanzo, cofounder of mYak Tibetan Fibers, presented at this month's meeting. She shared the origin story of the company and their mission of working with the people of Tibet. She also shared and described all of their yarn lines as well as many patterns that have been created using mYak yarns.
This is the list of patterns Paola shared during the meeting.
Malibu (shawl) – Isabell Kraemer
Dingley Dell (striped v-neck sweater) – Isabell Kraemer
A.N.T. Hat (reversible hat) – Aimee Debaun
Fjolla (lace accented sweater) – Isabell Kraemer
Vaike Shawl – Isabell Kraemer
Smilga Shawl – Inese Sang
Drawing Sweater (sweater with colorwork flowers) – Tomomi Yoshimoto
Sabela Pullover (striped sweater) – Isabell Kraemer
Kyler Shawl – Isabell Kraemer
Tiberius Pullover (colorwork yoke sweater) – Isabell Kraemer
Adventitious (short sleeve v-neck sweater) – Olga Putano Design
Adeline (cable yoke sweater) – Olga Putano Design
Josie (colorwork yoke sweater) – Olga Putano Design
Seve (v-neck pullover) – Isabell Kraemer
Canale (wrap front pullover) – Julie Hoover
Post (poncho) – Julie Hoover
On the Spice Market (shawl) – Melanie Berg
Chamomile&Sage (crocheted wreath) – Mo Malron
From Me with Love (shawl) – Gabi Fontana + Myak
Hug Hug Kiss Kiss (shawl) – Andrea Mowry
Paon (colorwork yoke swater) – Camilla Vad
Estser (colorwork yoke sweater) – Camilla Vad
Spark Cardigan (colorwork cardigan) – Andrea Mowry
Fonda (textured yoke cardigan) – Caitlin Hunter
Painting Bricks (shawl and hat) – Stephen West
Caribou Hills (colorwork yoke sweater and hat) – Caitlin Hunter
Andrea Shawl – Kirsten Kapur
Teroldego Shawl – Caitlin Hunter
Big thanks to Kathy Lewinski for compiling the list of patterns!
Board Update
Kelsey Sorenson will be cycling off the board and leaving her position as secretary when her term ends at the end of this July. Please reach out to Kelsey (secretary@knitters.org) if you have questions or interest about filling this position beginning in August.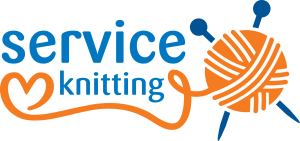 You can continue to drop off your completed service items at the Sip and Knit and Knitting Around Town events.
For details about this year's service partners and what they need see: https://knitters.org/service-knitting
Library Update
Guild members will need to fill out this form: https://textilecentermn.org/librarycheckout/ to check out books from this point forward. This will not only help the Guild know how many members are utilizing the library, but will also help the Textile Center with their database. If you forget to fill out the form before visiting the Textile Center, they will have copies available.
Upcoming In Person Events
Remember to check the Guild's calendar for all upcoming events!
Sip and Knit

Come and join us June 03 from 10:00am to noon for coffee, beer, donuts, and crafting with friends!
Food & Drink: Venn has espresso drinks, coffee, tea, soda, and juice, as well as beer for purchase. You can bring in your own water. The Guild will be bringing donuts. You are welcome to bring other food as well.
Getting There: The Blue Line 46th Street Station is just outside the brewery. It just down Hwy 55 from Minnehaha Falls and the Grand Rounds bike path. There are Venn specific parking spots to the north of the building and on-street parking.
You can also park at the Fort Snelling Park and Ride and take the Blue Line north 3 stops.
Dogs: Dogs are welcome.
Thanks to Venn Brewing for hosting us!
Knitting Around Town

Guild members on the move! Let's visit a new library in the metro area each month to get together and knit!
Mark your calendar for:
Future Events Survey
The board has been discussing planning a few events outside of the Twin Cities. Please help us gauge interest from the membership by filling out this questionnaire: https://knitters.org/mkg-future-events-questionaire/
Registration is now open for members and non-members!
Yarn Shop of the Month
We will be featuring a different shop every month. See the write up about Northfield Yarn here. Members can win a $25 gift card to the featured yarn shop in our door prize drawings at the month meeting. Make sure to put your name in the chat for a chance to win!
Have an idea for a shop you'd like to see featured? Email Melissa, technology@knitters.org
Next Month
Kate Atherley will be joining us to talk about joining yarns.
There will also be a trunk show with Bumblebee Acres Fiber Farm starting at 6:30 PM CST.
Take care and see you next month!