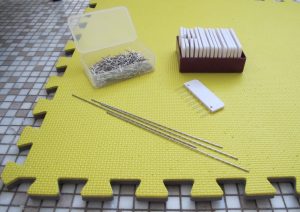 Thanks to everyone who attended this month's meeting with Kate Atherley. It was such an informative talk about blocking and fiber care, I personally learned so much. From all the questions, I think a lot of you did too. Members, watch for the recording of the meeting to be posted in the dashboard. By the way, if you missed the June meeting, that recording is now available.
Board Update
Thank you to everyone who voted. We did reach quorum and the board has been approved. Also we have filled our open board positions! Meg Duncan will be joining the board as Vice President and Janet Ungs will be joining as Programming Director. The new term starts August 1st. You can find bios and contact information for our board members on our Leadership page. We are currently updating it for the new term.
Garage Sale
Our summer Garage Sale is this Saturday, July 23rd from 11am – 3pm rain or shine. Help support the Guild and get great deals on yarn, books, and tools. We will be accepting donations of yarn and tools at the Garage Sale. We don't currently have room for anymore books or magazines. We will also be accepting items for our service knitting partners. Get all the details here.
Service Knitting
The graph above shows where we currently stand on donations for Sanya's Hope. As you can see we need more kids' mittens. We also need hats, mittens, slippers, lap blankets, and other items for our other partner MoveFwd. We will continue to have drop-off dates throughout the year and can accept items through late fall. More information and links to patterns are on the Service Knitting page.
Demoing at the State Fair
We have the opportunity to promote the Guild and demonstrate knitting in the Creative Activities Building at the Minnesota State Fair this year. There are multiple days available to us, so we want to judge which days there is interest in volunteering and if there is enough interest. Please answer the question below to help us decide. All shifts will be three hours, 9am – 12pm, 12pm – 3pm, and 3pm -6pm, with two to three people. Volunteers receive a ticket to the Fair, but need to get there on their own. Volunteering consists of displaying your finished items, knitting, and answering any questions about the Guild or knitting. If enough people are interested, we will send out an email with a volunteer sign-up sheet.
Oops! We could not locate your form.
Stitch 'N' Pitch
Our yearly Stitch 'N' Pitch day with the Twins will be Sunday, September 25th at 1:10pm against the Los Angeles Angels. You can find all the details now and be able to purchase tickets starting July 22nd on our Events Calendar.
Library Update
These items have been added to the library at the Textile Center
Magazines
pompom 41 (s/s 2022)
amirisu 24 (summer 2022)
Yarnologie 1-2 (NEW!)
Making 7-9 (back issues) (If anyone has issues 1 -4 they would like to donate, please let Anne know.)
Books – Thanks to Cori
Froth and Foam: A Book of Lace by Kelli Slack
Blue Sky Alpacas Extra
Blue Sky Fibers 2019/20 Lookbook
Sabine 2013 patterns by Tabetha Hendrick
Swallowtails by Louisa Harding
Warm Little Knits: Classic Norwegian Two-Color Pattern Knitwear
Jean Greenhowe's Storybook Dolls
Jean Greenhowe's Christmas Special: Double Knitting Yarn
Landing by Cecily Glowik MacDonald (Winged Knits Vol. 1)
Warm Days, Cool Knits by Corrina Ferguson
Debbie Bliss Cotton Knits for All Seasons
Modern Estonian Knits by Aleks Byrd
Vivian Huxbro's Knitting Handbook: 8 Schools of Modular Knitting
Requests and suggestions are alway welcome, just email our librarian Anne.
Designer Spotlight
Our July designer is Alicia Plummer. Read all about her here.
We are always looking for designers to spotlight.
Designer preferences
Highlight BIPOC designers
Look for local designers
New designers
Presence on Instagram
Multiple patterns on Ravelry
If designer is chosen – finder receives one of the designer's pattern
Email suggestions to Rose.
Grants
Don't forget the Guild has grants available to its members.
Educational Grants can help you get certified in tech editing, pattern writing, teaching, or even work towards being a Master Hand Knitter.
Mirco-Funding can help set up knitting events outside the Twin Cities.
You can find the Grant applications in your dashboard or email Kelly with questions.
Door Prizes
Alicia Plummer Pattern – Carrie Gruber
Alicia Plummer Pattern – Mary Yazvec
Digital Pompom Pattern – Joyce Poole
Upcoming Meetings and Meet-ups
August – Jennifer Berg/Native Knitter – We Are Still Here: Keeping Navajo Heritage alive through knit design
September – State Fair Show and Tell – Watch for details on how to submit your projects.
October – Tanis Gray – Estonian Inlay/Roosimine – Check out the supply list and homework to participate in this meeting.
We know some of you are missing getting together in person and some of you are still not comfortable meeting in groups. The board is currently planning on keeping our monthly meetings virtual, as this allows everyone to attend and allows us to book speakers from all over. We are though working on setting up more social meet-ups in between meetings. This will give those of you who miss the social aspects of the Guild to get together in person. We have two events currently.
Linden Hills Craft Night – Kathy hosts this group the 2nd Thursday of every month at Heartfelt in Linden Hills from 6pm – 8pm. All portable crafts are welcome, but the bulk of us are knitters.
Sip & Knit – Nikky will be hosting this meet-up the 1st Saturday of every month at Venn Brewing from 10am – 12pm. Drinks (coffee, beer, & more) are available for purchase and the Guild will provide breakfast treats.
Still not ready to meet in person?
Melissa hosts Thursday Night Knitting every other Thursday from 7pm – 9pm.
If you would like to host a Guild sponsored knitting group in your area just let us know. We can help with promotion and any other ideas you might have.