Did you miss this month's meeting? Here's a short wrap up.
Trunk Show
Luke Mitchell and his aunt, Cindy, of Mitchell Wool Co joined us for the first trunk show of 2023. Mitchell Wool Co is a family run company from Michigan. Not only do they sell yarn from their flock of sheep, but Cindy also is a bag maker, and they have a lot of other fun knitting related items for sale on their website. They will be at several shows this year, so make sure to check out their schedule!
Program Recap
January is historically our service partner kick off meeting when we get a chance to meet representatives from the organizations we will be supporting for the coming year.
This year the Guild will be knitting items for St. Lukes Hospital in Duluth, Life House in Duluth, and Avenues for Youth in the Twin Cities. Life House and Avenues for Youth both address teen – early adult homelessness. Thanks to Catherine from St. Lukes and Melissa from Avenues for Youth for joining us at the meeting to tell us more about their organizations and the impact our knitted items will have on the people they work with and serve.

Items needed:
Birthing Center
Infant hats
Blankets
Booties
Pediatrics (birth – 17 years)
Hats
Any type of comfort item
Hospice
Lap Blankets
Fingerless Mitts
Shawls
Chemo caps

Items needed:
Items needed:
Hats (adult size)
Scarves
Large afghans/twin size blankets
See the Service Knitting page for full guidelines about types of yarn that should be used and when and where you can drop off finished items.
Thanks for knitting for others through our service partners this year!
Board Update
The Programming Director position still remains open on the board.
If you have questions about the role, are interested, or have a monthly program idea email Kelly at president@knitters.org
Upcoming Events
Remember to check the Guild's calendar for all upcoming events!
Sip and Knit

Come and join us February 04 from 10:00am to noon for coffee, beer, donuts, and crafting with friends!
Food & Drink: Venn has espresso drinks, coffee, tea, soda, and juice, as well as beer for purchase. You can bring in your own water. The Guild will be bringing donuts. You are welcome to bring other food as well.
Getting There: The Blue Line 46th Street Station is just outside the brewery. It just down Hwy 55 from Minnehaha Falls and the Grand Rounds bike path. There are Venn specific parking spots to the north of the building and on-street parking.
You can also park at the Fort Snelling Park and Ride and take the Blue Line north 3 stops.
Dogs: Dogs are welcome.
Thanks to Venn Brewing for hosting us!
Knitting Around Town

Guild members on the move! Let's visit a new library in the metro area each month to get together and knit!
Mark your calendar for:
Saturday, February 18th: noon to 4:00 pm
Eden Prairie Public Library – in the Bluestem Room
Tuesday, March 14th : 5:00 pm to 8:00 pm
Roseville Public Library – in the community room
Sunday, April 23 – location TBD
Questions or want to suggest a location? Email Meg, vicepresident@knitters.org
Yarnover 2023 (September 22-24) is starting to shape up. The full class and teacher list is live. Check out the Yarnover page to catch with any news you've missed.
And don't forget to renew your membership to get the member rate when registration opens in February!
Designer Spotlight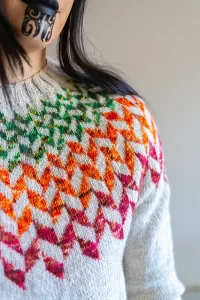 Our Designer Spotlight this month is Francoise Danoy also known as Aroha Knits. Francoise lives in Texas and is a bi-racial, multi-cultural, queer crafter of color, who works to empower knitters, whom she calls Fibre Muses, by exploring the intersection of making with identity, so they can think deeply about why they create to make a transformational impact with their craft.
Her designs draw influence from her Maori heritage, where she transforms the stories into stitches. Francoise's work aims to remember the past and strengthen the future for the Maori culture and people, while enriching the present knitting community.
She believes knitting is not just a hobby, but a medium for us to carry out our life's purpose. It is a powerful medium of bringing more joy, healing, creativity, and connection into our lives… one stitch at a time.
Francoise's designs can be seen on Ravelry and her user name is arohaknits.  Her website is arohaknits.com 
Thanks to Bonnie Swierzbin for her suggestion.
The Guild seeks to highlight:
BIPOC designers
Local designers
New designers
Designers should also have:
A presence on Instagram
Multiple patterns on Ravelry
If you have a designer you'd like the Guild to spotlight, email Rose. And don't forget that if your designer is chosen, you will receive one of the designer's patterns!
Next Meeting
Most knitters watch movies or TV shows and see knits on the screen and might appreciate the design or pattern, but rarely think about who actually stitched all of those stitches! Krista Ann (Explore with Knitsy) has made a career out of working with costume and fashion designers to create knits for film, TV, and the runway. There is a lot that goes into the process of creating these knits. So many details have to be taken into consideration when working with designers – the fibers, drape, colors, shapes, and sizing are all discussed in great length. Join Krista at the February meeting as she shares "Behind the Seams" stories about knitting for the entertainment industry
Take care, stay warm, and happy knitting!