Did you miss this month's meeting? Here's a short wrap up.
Program Recap
We were joined this month by Krista of Explore with Knitsy who shared her story of how she got into knitting for tv and film. Krista told us the story behind knitting outfits for Mindy Kaling to wear in The Mindy Project, replicating a sweater for Stranger Things, and crocheting two afghans for the movie Tag. She embodies a process knitter, especially as she shared about how she created spider web arm sleeves for Sarah Jessica Parker in Hocus Pocus 2.
If you want to learn more about the work Krista does or are curious about pursuing knitting for tv and film, she has a three part series on her website filled with tips and tricks. Check out part 1 here.
Krista also has patterns available on Ravelry, including her Heart on Her Sleeve pattern that was also featured on The Mindy Project.
If you missed the live meeting, lookout for the recording on your member dashboard.
Annual Report
Members of the board presented sections of the annual report, which is presented to members in February.
The full report can be read here: MKG Annual Report 2022
If you have any questions about the report or would like to discuss a certain section, please don't hesitate to reach out to a board member.
Board Update
The Programming Director position still remains open on the board.
If you have questions about the role, are interested, or have a monthly program idea email Kelly at president@knitters.org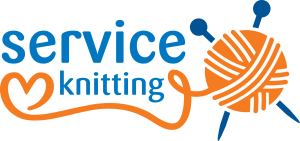 The next drop off date is Sunday, April 2 from 11am – 2pm at the Textile Center (enter from the back parking lot). The library will be open during the drop off and you can also stay and knit.
For details about this year's service partners and what they need see: https://knitters.org/service-knitting
Upcoming Events
Remember to check the Guild's calendar for all upcoming events!
Sip and Knit

Come and join us March 04 from 10:00am to noon for coffee, beer, donuts, and crafting with friends!
Food & Drink: Venn has espresso drinks, coffee, tea, soda, and juice, as well as beer for purchase. You can bring in your own water. The Guild will be bringing donuts. You are welcome to bring other food as well.
Getting There: The Blue Line 46th Street Station is just outside the brewery. It just down Hwy 55 from Minnehaha Falls and the Grand Rounds bike path. There are Venn specific parking spots to the north of the building and on-street parking.
You can also park at the Fort Snelling Park and Ride and take the Blue Line north 3 stops.
Dogs: Dogs are welcome.
Thanks to Venn Brewing for hosting us!
Knitting Around Town

Guild members on the move! Let's visit a new library in the metro area each month to get together and knit!
Mark your calendar for:
Yarnover 2023 (September 22-24) is starting to shape up. The full class and teacher list is live. Check out the Yarnover page to catch with any news you've missed.
And don't forget to renew your membership to get the member rate when registration opens on March 25!
The Guild is offering need-based grants to attend Yarnover 2023. The application form is here: https://forms.gle/xRXgFvnyH6XNdGb47
Applications will be open until March 17 and winners will be notified by March 21.
If you have questions about the grant, email Kelly: president@knitters.org
Designer Spotlight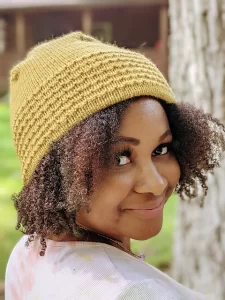 This month we are spotlighting Safiyyah Talley.  She is well known as The Drunk Knitter.
Safiyyah lives in Indiana and designs a variety of patterns from hats to mittens and shawls. She even has designed a baby shawl!!
She is very famous for her forever socks and has written a book Knit 2 Socks in 1 that we have in our library at the Textile Center.  Check out her website where she has videos and links to her True Crime and Knit podcast.
Safiyyah can be found on Ravelry  and her website is The Drunk Knitter.com
The Guild seeks to highlight:
BIPOC designers
Local designers
New designers
Designers should also have:
A presence on Instagram
Multiple patterns on Ravelry
If you have a designer you'd like the Guild to spotlight, email Rose. And don't forget that if your designer is chosen, you will receive one of the designer's patterns!
Take care,